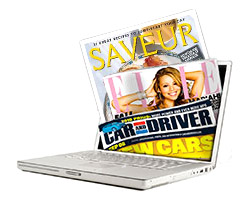 Nearly two-thirds of digital magazine readers consider environmental friendliness a reason for subscribing, according to a recent survey by PennWell. Digital editions serve the environment well—no paper, no printing, no physical transportation of raw materials or emissions from production.
Zinio launched GoReadGreen.com, a site where more than 200 publishers are offering some 50 million free digital magazine subscriptions to build digital awareness and, in turn, save the financial and environmental costs of publishing magazines, the majority (70 percent) of which die at the newsstand.
Gloria Adams, director of audience development at PennWell, says she has saved seven figures converting foreign subscribers to digital.
"It's so easy for digital magazine guys to say they have a great environmental story," says Marcus Grimm, director of marketing at Nxtbook Media. "But publishers have to make money, and that comes before the environment. If you can serve both masters, great."

Green Publishing Standards: Use digital to fulfill all international subscriptions. Offer a digital edition, regardless of current demand. Offer e-prints for customers looking for copies of specific articles. Give digital subscribers at least a 30 percent discount.

What You Can Do to Be Green: Market digital editions as sustainable alternatives to print. Leverage digital technology to reduce print production wherever possible.
Resources: GoReadGreen.com
SEE ALSO:
MAIN PAGE
PRODUCTION | The Paper Problem
OPERATIONS | The Importance of Stewardship in Sustainability
EDITORIAL | Does the World Really Need Another 'Green Issue'?
DISTRIBUTION | Efficiency–And Sustainability–At the Newsstand
EVENTS | How Eco-Friendly Can a Live Event Be?
MARKETING | A Paperless Future?