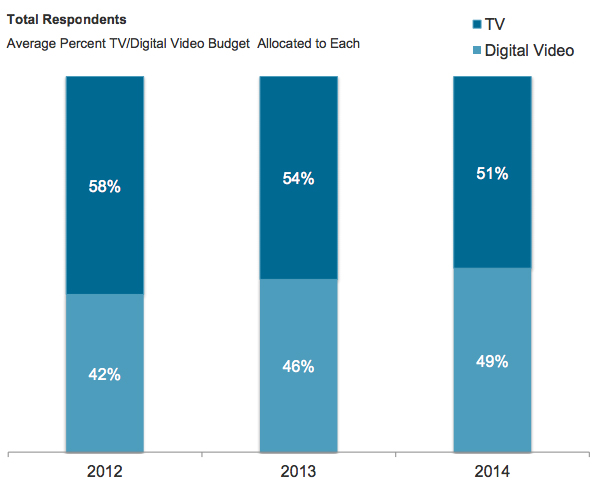 Media buyers are looking to shift budgets away from television and toward digital video which could open revenue streams for publishers with online video content, according to a recent survey commissioned by the Interactive Advertising Bureau (IAB).
The study of almost 300 buy-side executives from agencies and marketers shows a gradual shift in where video ad dollars are being spent over the last three years. The 42/58 breakdown favoring TV in 2012 is projected to be an even 51/49 split this year. Moreover, two-thirds of those surveyed say they'll increase their digital video spending in the next 12 months.
Along with projected overall increases in ad budgets, those gains will be fairly evenly divided among eight sources, including publishers, respondents say.
Digital video isn't just a fast-growing niche with limited potential either—75 percent of respondents say original digital video programming will be as important as television programming in the next 3 to 5 years. Many are still waiting on the research to bear that out though.
"There is a clear need for a showcase and an upfront advertising buying opportunity for original digital video content," says Randall Rothenberg, president and CEO of IAB, in a statement. "The medium is already generating hit shows and cultural buzz, so it's unsurprising that—as the study shows—advertiser budgets are following the eyeballs."
While most publishers are just starting to build out video operations right now, this study is a hint that they're moving in the right direction.