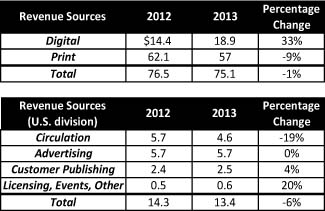 Overall earnings stayed relatively flat in the fiscal first half for Future plc, but the company's sources of income changed considerably.
Digital revenues rose 33 percent year-over-year to $18.9 million—now accounting for more than a quarter of the group's total revenue. Meanwhile, print earnings fell 9 percent to $57 million. Future's total group revenues for FY1H declined 1 percent year-over-year to $75.1 million.
The company's U.S. division, publisher of enthusiast titles like TechRadar and PC Gamer, took a more substantial hit to its earnings, dropping 6 percent year-over-year to $13.4 million. Digital markets now account for 43 percent of that revenue however, up from 40 percent in the FY2012 year-end report.
Advertising for the U.S. market as a whole stayed flat, but a 26-percent increase in digital ad sales offset a 41-percent drop in print. Digital advertising now accounts for 77 percent of Future's total ad revenues. Citing the impact of Hurricane Sandy in October, the division's circulation revenue fell off 19 percent, including a 28-percent hit for print copy sales specifically.
"Our twin-track digital growth strategy is based on growing our online audience and building revenues in the fast-expanding tablet markets," says Mark Wood, CEO of Future, in a statement. "Visits to our websites have increased by 46 percent to 51.4 million a month over the past year and page views have increased by 38 percent to almost 300 million a month. More importantly, we have steadily improved monetization of that global audience, reflected in the sustained growth in digital advertising revenues, which rose 18 percent year-on-year."
Wood also noted the development of several alternate revenue streams Future is pursuing. Specifically, two of Wood's mentions-licensing and events-saw a combined 20-percent earnings increase in the U.S. division, though they still account for a small portion of overall revenue.
Stay updated on the latest FOLIO: news, follow us on Facebook & Twitter!