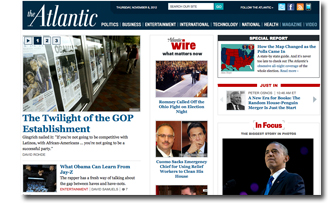 The Atlantic had another strong month in digital sales and traffic. According to the company, October 2012 digital revenue was 28 percent higher than the same month last year. The increasing sales figures are expected to help push the brand into its third consecutive year of profit, with 2012 digital revenues projected to be 33 percent higher than 2011.
Citing Omniture numbers, TheAtlantic.com traffic jumped to 12.5 million unique visitors in October, up 45 percent. The brand's two spin-off channels Atlantic Wire and Atlantic Cities scored major spikes, up 114 percent and 197 percent to 4 million and 917,000 uniques, respectively. 
The company says year-to-date digital sales are up 34 percent, with nine custom projects—a combination of content and display elements—that ran in October for brands such as Bank of America, Fidelity, IBM and Mercedes-Benz.
"Our writers did a terrific job in October. Analysis and commentary on The Atlantic, smart news curation on The Atlantic Wire, data and trends about urban life on The Atlantic Cities—our sites demonstrate there is an appetite among readers for intelligence, creativity, speed, and wit," said Atlantic Digital editor Bob Cohn in a statement. "Thanks to our hard-working editorial, tech, and product teams, we've now doubled our audience over the last 16 months."
At least part of The Atlantic's traffic-driving strategy relies on capitalizing on new audiences attracted to particularly popular content features. The site recently launched a new channel called The Sexes that was born out of one of its most highly trafficked articles in history—"Why Women Still Can't Have it All."