Magazine Publishers have quite a few choices when it comes to finding a newsstand in which to sell the digital,  e-reader and mobile versions of their titles. From platforms created by digital edition vendors such as Zinio and Nxtbook, to newsstands directly related to devices created by Amazon and Barnes & Noble, publishers have multiple opportunities to position themselves in this new landscape. Here's a breakdown of what's currently available as well as what's to come.
Breaking Down the Options
Digital edition vendors are currently taking two approaches when it comes to helping publishers sell their digital editions online: they're either creating their own marketplaces or they're creating magazine-branded storefronts and/or apps.
The majority of vendors, it seems, are taking the second approach. Tulsa, Oklahoma-based iMirus, for example, has been building microsites directly onto its clients' Web sites where all of the digital subscription transactions take place. "The microsite allows us to strengthen the Pharmacy Today brand and it makes us more searchable," says Bill Succolosky, senior director, creative services,  associate publisher, American Pharmacists Association.  "It connects our readers back to our homepage and also allows us the opportunity to sell ads online, which supplements our print edition."
Lancaster, PA-based Nxtbook also has its own newsstand, but it isn't actually used to sell digital subscriptions. Nxt-Stand is a portal where publishers can promote their digital content and readers can browse content for free. From there, customers are directed to the subscription page of that publisher's Web site or are advised to purchase subscriptions via eMagazines.com. All of Nxtbook digital magazines are accessible on the Blackberry via the company's Liberty platform.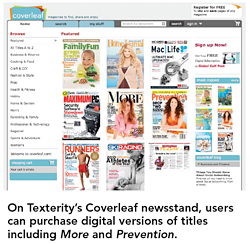 Texterity has no plans to align its current newsstand Coverleaf with its mobile and e-reader offerings, according to a company spokesperson. It is currently working on providing print/digital bundle subscriptions that will be magazine-branded, not Texterity-branded.
"Digital vendors removing themselves from branding makes a lot of sense," says Technologizer founder Harry McCracken. "There's no inherent reason why readers should care about digital-distribution companies any more than they do about the ones that deliver print magazines to newsstands."
Tablets and the iPad could be a boon for digital magazines. "If companies like Zinio, Nxtbook and Texterity play their cards right, e-readers should be the best things that ever happened to them," says McCracken. "They already have well-established publisher relationships and technologies, and far more people are going to want to read magazine-format publications on tablet-style devices than ever wanted to on PCs."
Publishers are also producing their own apps. "Very soon, we'll have our own branded app and then customers will be able to get to our digital edition right from SportingNews.com," says Jeff Price, president and publisher of Sporting News, which also works with Zinio. "It's the best of both worlds because now we can focus on the loyalists through our own marketing and outreach efforts."
Publishers can also sell their digital content on newsstands that Amazon and Barnes & Noble have created specifically for their devices—the Kindle and the nook. Both companies have created apps to make the content users download onto their devices accessible on PCs, Macs, Blackberrys and iPhones.
The subscription prices on these retailer newsstands, however, are more competitive than other digital newsstands. A monthly subscription to Fortune, for example, can be purchased for $1.49 a month on the Kindle, while The Nation costs the same on the nook.
What's Next?
Going into 2011, publishers should have two more digital storefronts: Next Issue Media and Skiff.
"We don't want to force people to have to go onto their computer and into a browser to get new content," Skiff president Gilbert Fuchsberg tells FOLIO:. "So we think it's important to optimize our service for various devices."
Skiff is in support of a traditional subscription model, according to Fuchsberg, because it's what consumers tend to prefer, but the company will also sell single copies and bundles that could include the print magazine. When asked about price points, Fuchsberg declined to provide specifics but says that they will probably reflect what consumers are expecting.
"In general, consumers expect digital to be less expensive," he says. "But at the same time, we want to make sure that publishers are getting paid for the value that's being delivered."
The magic price point for e-reader content may not come soon, according to McCracken. "Part of convincing people to pay will be to produce a product that's meaningfully better than both the print and Web versions, at least for some reasons," he says. "Nobody has completely solved that riddle. I'm pretty sure that it's lower than the full print subscription cost—and I hope that it's meaningfully higher than $0."
For the most part, consumers are set on how they expect their shopping experience to be, which includes choices that are relevant to them, having access to decent search capabilities, and being able to read what they want in a timely fashion, according to Fuchsberg. "One of the great virtues of e-reading is thinking of something and doing it in a minute or less," he says.
And publishers looking to get their titles onto any digital newsstands should be thinking about how to do so in the most efficient way possible. "That's a big challenge especially for smaller publishers," Fuchsberg says. "It's not just about the migration of existing audiences. There will be readers that may not have had a previous relationship with your titles. Now you can deliver a new product to them that they would have never experimented with in print form before, but at a lower cost than print."
 
SIDEBAR
Digital Newsstand Rundown
Company: BlueToad, Inc.
Platform: CoverStand
Titles Available: Magazines include GolfWeek, Paste, The Christian Science Monitor and L.A. Parent. Newspapers, books and catalogs are also available.
Sub Options: Users can subscribe to receive a digital version for their computers or, in most cases, their iPhones.
Price: Most magazines subscriptions are free, while most newspapers and books are paid.
Company: Texterity
Platform: Coverleaf
Titles Available: Titles include Ladies Home Journal, Discover, Fitness and Men's Health.
Sub Options: If you're already a print subscriber, you can download the digital version of that magazine for free. Single copies, print/digital bundles and digital-only subscriptions are also available.
Price: Single copies start at $0.99, one-year digital subs start at $4.99 and print/digital bundles start at around $9.97.
Company: Amazon
Platform: Kindle
Titles Available: Magazines include The Atlantic, Forbes, Fortune and Newsweek. Books and newspaper subscriptions are also available.
Sub Options: Subscribers are charged on a monthly basis despite the frequency of the magazine. The Kindle version of each title is delivered once the physical issue hits the newsstands. Kindle apps are also available for the PC, Mac, Blackberry, iPhone and iPad.
Price: Monthly e-magazine subs start at $1.49.
Company: Zinio
Platform: UNITY
Titles Available: Magazines include Billboard, Car and Driver and PC Magazine.
Sub Options: With one subscription purchase, users can receive the PC, Mac, iPhone and iPad versions of each title they choose.
Price: Varies
Company: eMagazines
Platform: eMagazines.com
Titles Available: Titles include ESPN, Black Enterprise, Nylon Guys and Family Circle.
Sub Options: eMagazines.com combines digital editions from across various platforms and software. Mostly monthly subscriptions are available.
Price: Varies
Company: Barnes & Noble
Platform: nook
Titles Available: Magazines include The Nation, Guideposts, Foreign Affairs and Harvard Business Review. Books and newspaper subscriptions are also available.
Sub Options: Users have the choice of only purchasing the most current issue or a monthly subscription. All issues will appear in the user's eBooks Library on BN.com, on their nook and in their Barnes & Noble eReader.
Price: Monthly e-magazine subs start at $1.49.
Company: Mygazines
Platform: Mygazines.net
Titles Available: Titles include Relevant, AudioFile, Peer to Peer and SpaFinder.
Sub Options: Users can browse, share and e-mail individual issues at no cost. A mobile-browser flexible interface allows users to read their Mygazines on an iPhone, iPad, iTouch or Android.
Price: Free