Digital Media Company Black Ocean Takes Majority Stake in Hearst's LMK App

Set to relaunch as a free app in early 2012.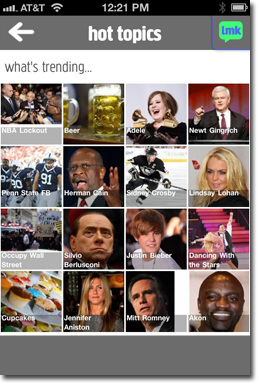 In an oversaturated market, digital media company Black Ocean is looking to resurrect a news service that can already be considered antiquated in app years. Black Ocean takes a majority stake in Hearst's LMK app (around 70 percent), and will relaunch the app as a free service in early 2012.
Oliver Ripley, co-founder and CEO of Black Ocean, says the development of LMK is a prime opportunity for his staff. "Hearst is a great example of a very successful business worth emulating," Ripley tells FOLIO:. "That being said, however, LMK became non-core to their strategy and how they operate, which is on a corporate level. These startup companies are probably not the best environment or match for that."
LMK (an acronym for "Let Me Know") was launched in March 2010. At its debut, former Hearst digital executive vice president George Kliavkoff (he now runs the publisher's Manilla, an online bill paying service) told The Wall Street Journal for a "few hundred dollars of employee time", five staffers produced the app. Hearst charged $.99 to $1.99 for app download, which delivers news bites on categories specified by users (such as celebrities, sports, etc.).
Seven Black Ocean staffers are assigned to LMK, in addition to an outsourced group of writers. The majority of LMK's content will be aggregated by Black Ocean curators. It will be also move to an ad-supported model. "There was a price, but there are challenges there," says Ripley. "We're presenting ads in a manner that is unobtrusive to the content."
Ripley says LMK will be fundamentally different than other current news aggregating apps (such as Flipboard), both in presentation and function. LMK is smartphone-optimized for news updates and factual information. "If you're reading a book or a long article, you'll do that on a tablet device," he says.
Black Ocean currently works with companies like App Nation and social exchange and management tool MyCube. This new partnership with Hearst offered the group a direct segway into the app sector. "There's so much excitement in the market today, and where it will be in three, five, ten years. From a strategic point of view, for Black Ocean, it was very important to enter into the market, and the opportunity presented itself with LMK," says Ripley.
Meet the Author
---