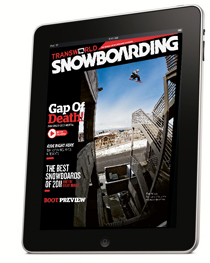 Bonnier Title Goes Digital
TransWorld SNOWboarding, published by Bonnier Corp., has launched its app for the iPad, called TransWorld SNOWboarding+.
"In launching TransWorld SNOWboarding+, we set out to present our readers with a completely new multimedia experience platform that would complement our existing print and online properties rather than just re-creating one or the other," publisher Adam Cozens says. "This new platform was also a huge step in creating a unique and exclusive opportunity for our marketing partners."
The $2.99 app launches with the Fall 2010 issue of the magazine. It features interactive ads from sponsors including Burton, Skullcandy and Zumiez.
'Video-Heavy' Inc. App Launches
Speaking of new apps, Inc. magazine has partnered with Thumb Media Group to leverage the company's MOZINE multi-platform app creation/distribution service to launch mobile apps for the iPhone, Android and Blackberry devices. The $2.99 Android app is already live and the others are expected to roll out soon.
In addition to features like online feeds, slideshows and social networking components, showcasing the magazine's Inc. TV programming was a priority. "Inc.'s video content is a huge draw online, so we knew the importance of carrying it over to the mobile platform," TMG CEO Mike Cartabiano says.
Thumb Media Group unveiled its MOZINE  service—which builds the app, creates the package, secures placement in app storefronts and promotes the final product—last month. It also sources advertisements through ad networks like iAd and AdMob.
Magazine Publishers Hop on Kobo E-Reader
Global e-reader company Kobo announced this week that "dozens" of U.S. and Canadian publications, including magazines and newspapers, have been added to the Kobo Store. Among the magazines available in the store are: Foreign Affairs, Guideposts, Harvard Business Review and Publishers Weekly.
Kobo's subscription model allows customers to purchase apps for the publications they choose for a monthly subscription, starting at $2.99 for magazines and $13.99 for newspapers. Unlike other devices, Kobo customers get a free two-week trial. The Kobo library also includes more than 2.2 million e-books.
Digital Magazine Vendor Hits 50,000 Mark
With the Front Desk Chicago digital edition from Modern Luxury, digital vendor BlueToad Inc. says it has published 50,000 digital editions since 2007.
And Modern Luxury has been a big contributor to that number. The publisher has enlisted BlueToad to produce digital editions for more than 30 titles. The BlueToad service features digital editions as well as apps for Apple's iPad and iPhone.