Digital Magazines News Wire | 09.30.10

Issuu launches pop-up ad option, Zinio looks at international pricing, more ...
iPad Owners Most Receptive to Advertising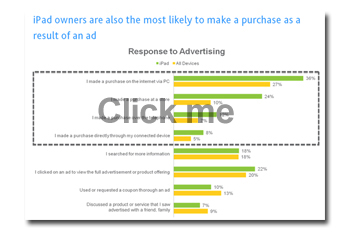 According to the Nielsen Company's new "Connected Devices Playbook" survey, 65 percent of iPad owners are aged 35 or younger. The same percentage of users also indicated they are male.
Other findings indicate that 44 percent of Kindle owners make more than $80,000 per year, compared to only 39 percent of iPad owners and 37 percent of iPhone users. The survey says Kindle owners also tend to be more educated: 27 percent have Master's degrees or doctorates.
In terms of users' receptiveness to advertising on tablet devices, 39 percent of iPad owners said ads were "new and interesting," versus 19 percent of all device owners. Forty-six percent of iPad owner said they enjoy ads with interactive features, and are most likely to have made a purchase as a result of seeing an ad on the device.
Nielsen interviewed more than 5,000 people who own tablet-type devices for the Connected Devices Playbook survey.
Survey: Where Do Digital Magazines Fit into the Mix?
NXTbook Media is conducting a survey to determine the role digital editions (and mobile) play for publishers today, as well as the magazine industry's satisfaction with those formats. Survey results will be released in November and those respondents who provide their e-mail address will be eligible to win an iPad.
Click here to participate in the survey.
Zinio to Offer International Pricing Management
Digital magazines vendor Zinio has announced a new pricing system that enables publishers to define their single issue, back issue and subscription price points domestically as well as internationally. The Zinio MAP (Market Appropriate Pricing) service bases its price structure on the newsstand market of the individual, local user, the company says.
According to Zinio international president Joan Sola, the company has "seen the international market's interest in digital reading explode and expect to enjoy this trend as new touch-enabled slates and tablets are introduced in the coming months."
Sola says the introduction of price variability enables publishers to "redefine business models that drive profit outside of their typical territory and reach."
Issuu Launches 'AdPages'
A new product from digital editions vendor Issuu, called Issuu AdPages, a new ad platform that allows reader to view and navigate advertisements, and make purchases, in full-screen mode.
"You can exit to go back to where you came from, or you can click a link to go to a webshop or subscription page," Issuu says on its blog. "It's a fast, intuitive and non-intrusive way of showing great catalogs and publications without forcing the customer out of context."
Issuu says it is working with digital marketing firm Adform to enable marketers and publishers to track performance and access details analytics of users. Click here for a series of demos.
Vendor Creates Site to 'Showcase' Clients' Best Editions
Boston-based Zmags Corporation likes to tout the best of what its clients are up to in the world of digital magazine publishing. So, the company has unveiled Zmags Showcase, a Web site that features a collection of what it thinks are the best Zmags-produced digital editions from more than 2,500 of its customers.
Each month, a panel of Zmags "experts" will select the best examples of newly-created digital editions, based on the publication's design and effective use of interactive content. Then, visitors to the site will be able to rate and comment on each selected publication.
From there, a "Zmag of the Month" will be chosen based on those ratings, comments and number of views. According to Zmags marketing vice president Peter Velikin, the showcase was created in response to a number of clients asking for recommendations on how to create effective digital editions.
Meet the Author
---