Every magazine has some portion of its audience involved in a digital-focused lifestyle or that would be interested in receiving a digital edition for one reason or another. They may be thinking "green." They may want to archive the issues on a computer. They may be business travelers and want a digital edition for convenience. They may be highly receptive to technology, so digital delivery resonates. While some may reference a generational difference in the acceptance of technology, age really doesn't seem to matter much. The median age of digital readers in the b-to-b and association markets, for example, has remained at about 45-years-old for three years in a row.
Digital delivery has become a reality for publishers—all kinds of publishers. It is an exciting way of delivering an interactive and engaging product to subscribers and a platform for developing new opportunities for advertisers through rich media and multimedia.
Digital magazines were hot last year, and are even hotter this year, as the market responds to exciting new technologies combined with the potential for a lower-cost distribution platform.
Publishers and technology suppliers alike recognize the fact that the publishing industry is in a platform-agnostic revolution. In increasing numbers and in all markets, readers demand seamless access to content across multiple output channels—traditional print, of course, plus digital content feeds to laptops, netbooks, e-readers, mobile units, and HDTV. Each week, people already read their print magazines, spend a little time reading online, maybe read an e-mail from a b-to-b publisher, perhaps even watch a video. They're consuming a variety of media in various ways.
Three Dimensional
The ubiquity of content wherever, whenever, and however the consumer wants it delivered, though, will lead the content itself to become much more engaging, much more three-dimensional, and much more highly targeted to the individual. Digital delivery certainly provides the reader with that kind of rich reading experience, but it's not one-size-fits-all. Publishers can't expect to be effective—or competitive—by simply distributing a PDF version of a magazine or placing magazine content onto a Web site or onto a mobile device with a tiny screen. Magazines are intrinsically unique. They should be read in a spread layout, in a readable size, and in color. But that doesn't mean delivering them only on paper.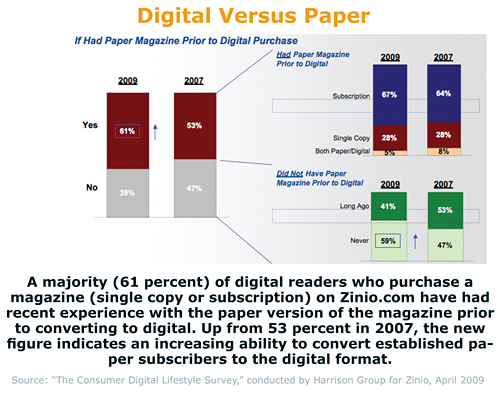 "The elements that make magazines unique have nothing to do with being on paper," says Mark Jannot, editor in chief of Popular Science, "but even magazine editors don't always fully embrace the huge competitive advantages that we have over other media. Magazines and magazine packaging have a tremendously vital form, and magazine publishers must recognize and promote the things that make magazines wanted by readers."
One of the strengths of a magazine, according to Jannot, is that it's a periodical—an issue may come out every week or month or quarter, so readers can anticipate it—certainly an advantage for magazine publishers. "But the most important aspect of a magazine," he says, "is that it is a complete package that has been curated by an editor and an editorial staff and has a voice that readers come to love. It has pacing and rhythm from cover to cover. And it has been laid out in an effective, two-page spread convention that has been optimized over decades—even centuries—to become a tremendous information delivery device for a subject of great interest to that reader."
New Opportunity
Web sites have plenty of advantages, but they don't share those qualities or those advantages in terms of reader involvement or advertiser interest. Digital editions, however, offer an opportunity for publishers, as indicated by the growth in that segment of the industry reported in 2008 by The Gilbane Group in its report, "Digital Magazine and Newspaper Editions, Growth, Trends and Best Practices."
For example, the number of audited b-to-b publications reporting digital editions grew 215 percent (from 107 to 230) and the number of digital subscriptions grew 222 percent (from 773,194 to 1.7 million) over the two-year period 2005-2007. The penetration of digital subs grew from 13.3 percent to 15.0 percent.
The number of audited consumer publications reporting digital replica editions grew 224 percent and the number of digital subscriptions grew 143 percent over the same period, 2005-2007.
Combining the two sets of results, the growth in publications offering digital subscriptions was 217 percent over the period, and growth of digital subscriptions was 195 percent. The percentage of audited titles with audited digital editions grew from 3.2 percent to 6.9 percent, indicating a huge window for future growth. Based on that data and other trends studied by the Gilbane researchers, they projected last spring that the total number of publications offering digital editions (both audited and unaudited) would grow from 3,286 in 2007 to approximately 8,000 at the end of 2009—247 percent growth for the two year period 2007-2009; and, based on 2007 penetration rates, the number of digital subscriptions would grow from nearly 13.5 million to approximately 31.5 million—236 percent growth for the period.
Clearly, digital has its fans. On the consumer side, computer-technology magazines do quite well, as do the men's interest, hobby/special interest, and men's active categories. Travel or décor magazines are especially suited to a digital format, because of the high-fidelity experience the screen allows. "Zooming in on a two-page spread of an island in Fiji or on various elements of an interior design ad in a digital magazine can be a much more compelling experience than looking at the same copy in a print ad with a gutter," says Rich Maggiotto, president of Zinio.
Audiences Receptive to Digital Editions
Narrow-interest or niche magazines and those with a large international circulation are definitely excellent candidates for digital delivery. Nxtbook Media, for example, has a client that publishes a digital magazine for agility dog trainers. "It's a very narrow-interest but well-defined audience," says Marcus Grimm, marketing director. "At the same time, our industry was created by publishers concerned with [the cost and time delays of] international distribution. So even though there may only be 5,000 agility dog trainers in the world, they're spread out all over the globe. Digital editions work well for magazines reaching that kind of broad geography—especially in today's economic climate."
BoatUS magazine serves a large niche audience. An association magazine distributed six times a year to 600,000 boater members of the Boat Owners Association of The United States, the digital edition premiered with the January 2008 issue as a means of sharing content that just doesn't fit in the print magazine—additional text, images, video that are relevant to a story. The digital version is about 50 percent longer than the print edition in terms of the number of pages primarily due to a larger, more readable font size but also because of the extra content.
BoatUS has an e-mail address for about half of its membership, who are sent a notice about a week before their print edition is mailed, inviting them to click through to the digital edition. The number of digital readers fluctuates from issue to issue, ranging from about 15,000 to 30,000.
"We have a very loyal base membership that reads the digital edition every month," says Michael Vatalaro, editor. "We also have folks who click through when they see something interesting. So digital readership can change quite a bit from issue to issue. It depends on the cover, something that catches their eye in the e-mail notice, even what they're doing that week."
Only a small subset of members has opted completely out of print—about 3,000 at this point. Some are in places where mail isn't convenient or they may pay for mail by the pound.
"In general, any kind of b-to-b, trade, or association publication is a slam dunk for digital delivery," says Cimarron Buser, vice president of marketing and product planning at Texterity Inc. A b-to-b publisher committed to the digital format generally can get up to 15 percent of its readership to accept a digital edition, an estimate that has not changed over the last couple of years. (Some estimates are much lower—5 or 6 percent of the total.) For technology or engineering titles, the take-up rate may be slightly higher. Oracle Magazine is a notable exception, with a digital opt-in rate of 20 percent or more (about 150,000 digital subscribers in a base of about 600,000).
Most of the industry's suppliers report a high level of interest. "In the last year, the interest in digital delivery and the demand for it has doubled, if not tripled," says Ted Hebert, director of marketing at Zmags. "We did a customer survey a few months ago and found that the majority of our customers have seen a 50 percent increase in the number of readers choosing digital delivery." Zmags currently has more than 3,000 customers—both b-to-b and consumer magazine publishers—using digital delivery.
And it's not just publications that are interested. In the first quarter of 2009 alone, Hebert says, more than 400 marketing departments of businesses outside the publishing realm are using Zmag's digital solution for collateral management. "They're digitizing all their brochures, data sheets, white papers, press releases, annual reports, and things of that nature," he says.
That's also the case at Publishers Press, which is expanding its business focus to produce digitized materials for companies outside the publishing industry. "We're moving in that direction," says Dick Ryan, director of business development for e-opportunities. "Also, more and more publishers are using digital delivery for projects other than simply delivering replicas of their print magazines," he adds. "Digital delivery of an abridged edition of the print magazine, for example, can be an excellent and low-cost tool for audience development. Custom publishing projects and digital supplements are other good examples." 
Meanwhile, Trish Connelley, CEO of Advanced Publishing, says digital success comes to those with vision. "It's such a cost-effective way to distribute their content—which is often the key voice in many b-to-b segments," she says. "And once a magazine has 25-30 percent digital readership, the digital edition begins to take off on its own." While that percentage is significantly higher than the average penetration, Connelley cites an example of one publisher client that recently accomplished 24 percent digital acceptance within three months. The bulk of Advanced Publishing's clients are b-to-b or association magazines, along with a few consumer titles.
"Publishers must have a strategy for what they want to achieve," she adds, "and the strategy will change over time. The publisher may initially want to reduce the international print run, for example, or fill new requests from international readers that couldn't be fulfilled with print. Once those initial objectives are accomplished, the strategy will change."
In terms of reader penetration, perhaps most impressive is the 40-50 percent of the 25,000 subscribers to Interference Technology, an IT title published by Item Publications, who actually log in and look at the digital edition. Granted, Interference Technology—a 300-page book published three times a year—is more of a reference guide than a traditional magazine. Nearly 5,000 of the subscribers reside outside North America and receive only the digital edition; North American subscribers, who are not asked to choose a format, receive both print and digital.
"Readers who might opt for digital over print may not have adopted the good habit of regularly reading their digital edition," says Graham Kilshaw, president if ITEM Publications. "So we give them both. I don't want to risk an advertiser losing the opportunity to get in front of a key customer."
Even so, the actual number of subscribers logging into the digital issues has grown year over year, the latest figures showing 8,000-10,000 accessing the digital edition in 2007 compared to 10,000-12,000 in 2008. "We're doing pretty well," Kilshaw says. "We've stepped up the penetration of digital readers each year—a steady climb over the past three or four years that we've been seriously into digital publishing."
Keeping the marketing fresh is a key to that success. Subscribers receive an e-mail blast each time a new digital edition is produced. "We had this old-fashioned notion of protecting print," says Kilshaw. "Now we've turned that on its head and, in fact, try very hard to get the digital edition in front of the reader first. We position it as a sneak preview. After all, why bother logging in to read a digital edition if the print copy is sitting right there on the desk?"
The digital edition is also featured on the home page—and virtually every page—of InterferenceTechnology.com, where subscribers can log in at any time and read the last three issues. But one of the most effective marketing efforts has been to feature one article per week from the new issue in an opt-in weekly e-mail newsletter. "That lets us guarantee to the advertisers that there will be traffic to the article in which their ad appears," he says. "Our spring issue typically has 30 articles, which provides 30 weeks of material for our newsletter."
EH Publishing's Varied Models
Meanwhile, EH Publishing, which specializes in the field of home technology, has four titles with digital editions—three b-to-b and one consumer—and each situation is somewhat different. CEPro, a b-to-b title for home theater installers and one of the company's flagship publications, has offered a digital option to its 50,000 subscribers for more than a year. Today, the digital-only circulation is approaching the 10 percent mark. Last year, about the same number opted for digital but as a companion to a print copy; subscribers now must choose one or the other.
For Live Sound International, which has 28,000 subscribers, the digital penetration has always been fairly high because of its international focus; about 15 percent of the file is digital-only. "If you add the people who request both digital and print, it's close to 30 percent," says Elizabeth Crews, circulation director.
Meanwhile, the digital edition of Channel Pro was launched last year as a source of free online content for what was then its brand-new website. Its business model is geared primarily toward sponsorship rather than circulation revenue.
"We're seeing a slow increase in reader acceptance of the digital format," says Crews. "Each month we get a few more who choose digital, and the cost savings are fairly substantial. Our real push, though, is to figure out the consumer model. Electronic House is our one consumer title, and we're trying to determine the right price point for the digital edition. Should it be free? Or $2, $6, or $9 a year?" On its Web site, the domestic subscription price for the print edition is currently $19.95; for the digital edition, $9.95.