Subscription numbers have slowed to a crawl, tablet sales are sputtering. Digital editions have fallen far short of the hype they whipped up back in 2010 when the first iPad shipped. In the meantime, scores of publishers have invested heavily in the platform, which ended up demanding a significant amount of production, editorial and design labor for anything that went beyond a simple flipbook format—essentially requiring a separate production track for the same brand. So, with the state of digital editions today, where are publishers with their strategy? Has it changed? Is it holding up?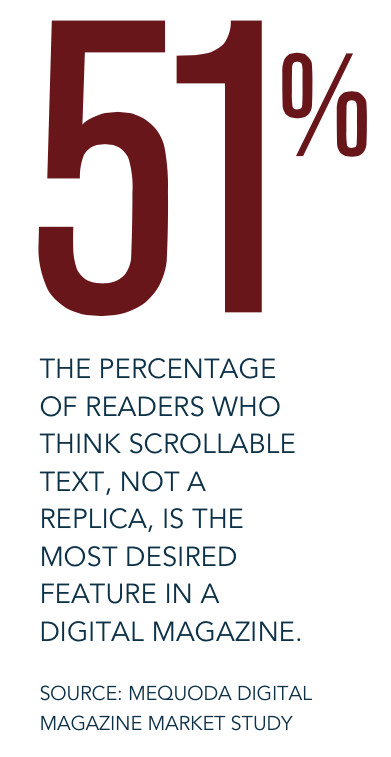 If we're to look at tablet editions pragmatically, we have to get past the "savior" tag. When Apple launched the iPad, the industry was still reeling from the recession. But as it turns out, print is still the breadwinner and publishers can't look at digital editions as a sliver bullet anymore simply because if it was, then their main revenue source would disappear. Rather, digital editions are another distribution channel, and one that requires some patience as the tablet and mobile device market continues to fragment and evolve, but remain critical for publishers.
"It's been a Catch 22 from the beginning," says Mark McCormick, president of Mirabel Technologies and former president of Gulfstream Media Group, publisher of small city and regional magazines that run up the coast of Florida. "It's funny that publishers were looking at them as saviors when they also didn't want print to go away."
Even so, digital editions had high expectations that haven't been met for the most part. Publishers privately grumble at anemic download and open rates and sub-par advertiser buy-in. They certainly haven't become a global substitute for print. After all, 1105 Media's T.H.E. Journal, a magazine about K-12 education technology, reintroduced its print edition after existing for two years as a digital edition. Without print, 1105 felt T.H.E. Journal wasn't realizing its full market potential.
"In this market segment many agencies and marketers are committed to integrated buys," 1105 Media COO Henry Allain told Folio: in January when they brought back the print edition. "We found ourselves at a disadvantage when we didn't offer print as one component of the buy. It was a bit frustrating for the sales team to have to continually deal with the question: 'Where is the print component of this proposal?'"
Further, the print edition roared back with a 50-50 ad/edit ratio—"significantly" higher than the digital edition was able to reach.
So, if digital editions, for the most part, can't stand on their own, where do they exist in the product line-up?
It depends. Some publishers are using straight replica editions to create a robust digital archive. Others are taking a halfway approach for the 5-10 percent of the overall database that reads digital editions. McCormick says why not dedicate only the most important content to the digital edition? "I don't recommend you slap together a digital replica, unless you're using it for a digital archive. But at 5-10 percent of circulation, you don't have to redesign the whole magazine—that would likely require a dedicated staff of two. Just redesign the TOC and the main feature stories. When you have the space—taking a four-page story and turning it into a 12-page story—it's easier and faster than designing for print."