Digital Edition Briefs | Publishers Sidle Up to Apple

Nook debuts full touch screen model, the Robb Report app…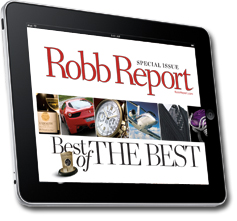 While some were hesitant to hop on board with Apple after it initially announced its subscription model, more and more publishers are signing up to sell magazines under the software giant's terms.
Conde Nast announced earlier this month that several of its titles would be available for subscription purchase, with The New Yorker leading the way. Vanity Fair, Glamour, Golf Digest and Allure were next, with WIRED, SELF and GQ now all available for subscription purchase on the iPad.
WIRED had only offered single copy purchase options of its publication through the App Store up until this point.
All of the publications except for The New Yorker are priced at $1.99 per month and $19.99 a year, with print subscribers allowed free access to the digital version of the mag. The New Yorker's weekly issues are set at $5.99 a month for four installments and $59.99 a year. Bundled subscriptions of The New Yorker (which includes website, iPad and print access) are set at $6.99 a month for four issues and $69.99 for a year's worth of magazines.
In other digital news, the Barnes and Noble Nook has debuted a new model of its popular e-reader with full touch screen functionality. New York Magazine is now available on the Nook, priced at $4.99 for a single download and $2.99 for monthly subscription.
The Sheridan Technology Lab, a division of The Sheridan Group which supports the journal, book, magazine and catalog publishing sector, has developed a suite of mobile products that are available on Apple iOS and Droid technology. Sheridan now offers:
• Mobile alerts – Provides users with notice and access to article abstracts.
• Mobile full text – Displays full text-articles with multi-media and social media options.
• Mobile editions – Digital editions of publication issues.
• Mobile ePrints – From Sheridan reprints, mobile ePrints are intended to help publishers drive sales in article content. The ePrints provide options for security settings like expiration date, print control and number of Web hits.
• Print-to-mobile QR codes – When smart mobile devices scan the codes, additional content, videos, surveys and websites can be accessed by users.
The Robb Report (pictured), the 35-year-old brand that reports on luxury products and services such are aircraft, jewelry, spirits and cigars, has launched a monthly iPad app available through the App Store. The app debuts with the 23rd annual June "Best of the Best" issue. It's also available for free until June 15 for Droid users who download the Zinio digital newsstand, which just became available on Android technology today.
Meet the Author
---