Digital Edition Briefs | 8.24.11

The New Yorker, Light It, News360...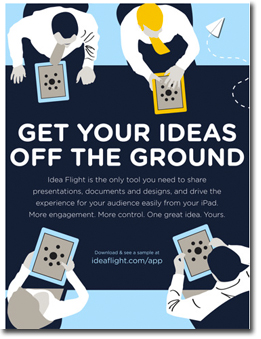 Conde Nast releases version 1.1 of its app Idea Flight. The app allows an individual to conduct a presentation by directly engaging with their audiences' iPads (with up to 15 audience members able to connect through WiFi or Bluetooth) by way of their own iPad. Conde also released Idea Flight Enterprise, offering educators the opportunity to purchase the app in bulk for a one-time price of $9.99. The Idea Flight app currently has 85,000 downloads.
Zinio, the digital magazine newsstand, is now one of the top 3 grossing iPad news apps. It currently houses over 4,500 international titles, and is available for Android as well as iOS technology. Zinio Droid downloads total over 300,000 since its Android debut less than two months ago.
The News360 app relaunches for the iPad, Honeycomb technology and web access. News360 is a personalized news app that picks relevant content based on user behavior and preferences.
SourceMedia's American Banker will soon release its digital edition for the iPad. Print subscribers have access to the digital content for free by entering their current American Banker username and password.
The New Yorker releases its "Goings On" app, a guide curated by New Yorker editorial staff to New York City culture and happenings. Location sensitive and available for free download, the app contains guided audio tours, restaurant reviews, sharing capabilities and more.
Light It: The How-To Magazine for Studio Lighting and Off-Camera Flash, an iPad-only digital magazine, debuts in the App Store today. Released eight times annually, Light It targets both amateur and professional photographers. Scott Kelby, founder and president of the National Association of Photoshop Professionals, is publisher.
Meet the Author
---