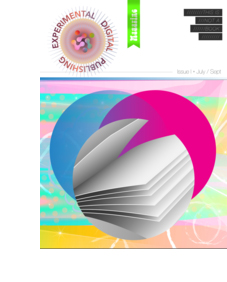 IBE will launch its first monthly digital edition on August 1st, which will be formatted for tablets, mobile devices and e-readers. The new magazine will be distributed to 120,000 global industry contacts and offer a mix of news analysis, features, and expert opinion.
Former Florida Sportsman editors have launched Fly & Light Tackle Angler. For $13.99 a year (six issues) or $3.99 per issue, owners of iPads and iPad Minis can download the digital magazine from the Apple app store Newsstand. The electronic format allows videos, slideshows, and links to websites on topics such as fishing regulations, destinations, lures and boats.
Experimental Digital Publishing Magazine debuted as an iPad publication earlier this month. This interactive iPad Newsstand App focuses on the most inventive work in digital media today and will be available in the Apple App Store on a quarterly basis. The digital magazine features articles and interviews with top artists, game designers, musicians, developers, and other leaders across the arts and technology fields.
Poetry magazine is now available through a digital subscription. iPhone and iPad users can subscribe to a digital package for $29.99, which includes content from the print magazine, the monthly Poetry magazine podcast, and a monthly discussion guide. Individual issues are also available at the Apple Newsstand for $2.99.
Autism File Magazine is now available as a free digital download beginning with the August/September issue. The new digital format will be available six times per year but will also include a weekly update focusing on relevant topics including nutrition, biomedical treatments, sensory issues, advocacy, and safety. The digital format allows parents and professionals to have immediate access to crucial information provided by the contributors.