Digital Edition Briefs| 3.22.12

Indie Game Magazine, Open Markets, Transformation Magazine…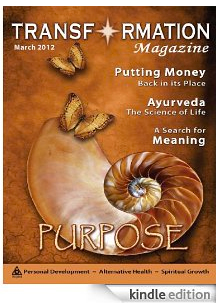 Interactive sports and fitness publication American Athlete is on the iPad, and available for the Newsstand. The magazine will be published six times a year.
Indie Game Magazine released its iPhone/iPad app, available for both subscription and single copy purchase. The magazine, which recently released its 21st issue, is compatible with the Apple Newsstand.
Bonnier's Saveur integrated Digimarc's watermark technology into its April print issue. The full-page ad for Starwood Hotels and Resorts in Hawaii brings the reader to an in-app menu with four ways to interact with Starwood.
CME Group debuted an online magazine, Open Markets. The new site publishes feature stories, blogs, videos, photos and news articles.
Transformation Magazine (pictured, right) is now on Kindle, Nook and Apple Newsstand. The digital edition is geared towards providing content on spirituality, personal growth and alternative heath.
GIE Media's Horticultural Group launched A Garden Life. The free tablet-based magazine app will include content on healthy living, growing and preparing food, contributing to community, travel/adventure and art/literature. The app is available on iTunes and the Android Marketplace, and will be published bi-monthly.
Men's magazine Kandy Magazine partnered with iMirus to optimize its app for the new iPad. The app features integrated social media features, media libraries, pinch-to-zoom and navigation menus.
Mediaspace Solutions established Mediaspace Tablet Network. The network is a compellation of 326 magazines and newspaper apps, and will allow advertisers on any of the network's apps.
Meet the Author
---