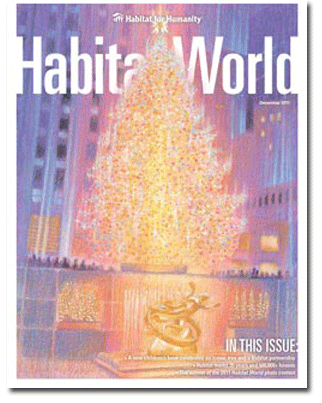 Digital subscriptions of American Express Publishing's Travel + Leisure and Food & Wine magazines are now available on the iPad through Apple's Newsstand. Annual subscriptions are priced at $19.99, while single copies are sold for $1.99 through In-App Purchase.
The titles—also available on Barnes & Noble's Nook and Amazon's Kindle Fire—first launched on the iPad last fall and were available to print subscribers through bundled subscriptions. Through Newsstand, digital subscribers will automatically receive new issues, without the need to download or search for the titles.
Habitat World, the flagship publication of Habitat for Humanity, has launched a new digital edition. Coinciding with this move, the magazine has upped its frequency from four to six issues yearly, with three of six published online only. The new digital editions will feature interactive content, photo slideshows and videos.
Audi magazine will now be available on the iPad, for free download through iTunes. The magazine is also available online in digital format.
The Journal of the American Society of Nephrology (JASN) has launched a full-text journal app through the Apple Store, developed by publishing and technology service provider The Sheridan Group. Articles accessed through the app include all images and figures available in print, along with video and audio capabilities. Users can bookmark, search and share these articles through social media as well.
Worldwide media tablet shipments into sales channels rose 23.9 percent to 18.1 million units during the third quarter 2011, a 264.5 percent increase from the same quarter last year but 5.8 percent below the original forecast of 19.2 million, according to the International Data Corporation (IDC) Worldwide Quarterly Media Tablet and eReader Tracker.
Apple continued to lead in shipments, taking up a 61.5 percent worldwide market share with 11.1 million units shipped in quarter three, up from 9.3 million units in the previous quarter.
Android's share fell from 33.2 percent in quarter two to 32.4 percent in quarter three, but IDC expects to see that number grow to 40.3 percent in quarter four, as Amazon's Kindle Fire enters the market and as it, along with the Nook, "helps prove that there is an appetite for media tablets beyond Apple's iPad," states IDC mobile connected devices researcher Tom Mainelli.
HP entered and left the market during quarter three with its TouchPad, which shipped 903,354 units, taking in a 5 percent worldwide market share behind Samsung's 5.6 percent.