Once we are set with our digital subscription offers and people start subscribing—the calls, emails, and Facebook post complaints start pouring in. And just like with our print products, we need to make sure we have some quality control processes in place, bundled with a customer service that's fast to respond to these inquiries. Here, I outline what we do at NewBay Media to ensure that our digital editions are rendering properly on all platforms, that they go live on schedule and how we handle the customer service.
Quality Control
This is one of the most important and time consuming processes that we handle in our department. Currently, New Bay Media has 23 Apple editions (with different circulation models), 9 Nook editions, 7 Kindle editions, 8 on Google Play and 2 on Zinio. The first thing we did was create a master schedule (just like we have for our print edition), which provides the due dates for file uploads, approvals and on-sale and live dates. We then use this schedule to go into all of our platforms and check that the issues go live on time and that they are rendering/displaying properly in the device.
It's important to have this quality control in place so we can catch any problems that our readers might experience and fix them quickly. And if in the process we get a customer complaint we can inform them that we are fixing the problem. Our quality control person also checks the pricing on our single issues and subscriptions. This is especially important when we are doing discounted promotions for a certain time period; we want to make sure that what we are promoting is what the reader is seeing on the device.
Customer Service
By having our quality control process in place we are able to service our readers better when they call. We also feel it's important to have one dedicated customer service representative handle all the inquiries from our Apple subscribers. We provide this rep's name, direct email and phone number within our apps via banner ads (inside the issues). A tab in the container app also provides the customer service contact information and cross promotes to our other brands.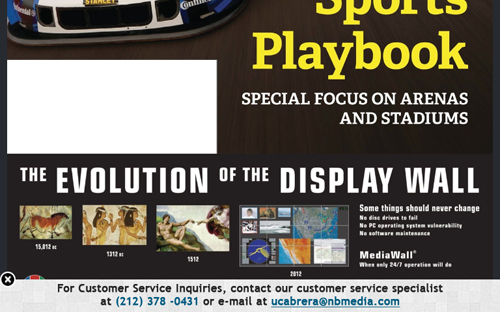 Our policy is to reply to our customers as fast as we can, especially since most of them are reaching us via email. Even if we don't have a solution to their request we let them know that we are looking into it. Obviously, customer service for the digital platforms is not very different from print. Bugs, however, are an issue unique to apps and digital editions. In these cases, we have to be in constant communication with the readers who experience a technical glitch—asking them for screen grabs of what they are seeing on their devices and following up with them to make sure that once the bug is fixed they are not continuing to experience it.  

Apart from the complaints we get via email and phone, we also monitor the comments left on our iTunes and Facebook pages. For the Apple editions you can find the customer reviews link in your iTunes Connect account. This will give you a listing of all the comments for the all the different versions of the app. You cannot respond to the comments left on this page, but it does provide insight into the reader experience. On Facebook, we can reply to customer concerns and address any issues offline.
It's important to have a quality control process in place for all of your digital platforms. This helps you prevent bad customer experiences and lets you catch and correct problems sooner. And as you move more of your magazines onto all the different platforms, your quality control process will get longer and more tedious, but it's just a matter of scheduling and time management. Like anything else we tackle as marketers and circulators, we can intelligently deal with these issues no matter how many apps we have to review or how many customer complaints we have to resolve.

In my next post, I'll talk about the different circulation models we have throughout our various digital platforms and our system for reporting them as qualified circulation in our BPA and ABC statements.
Until then…