Digital Dominates Event Attendance Marketing

Study shows print marketing still used, but considered far less effective.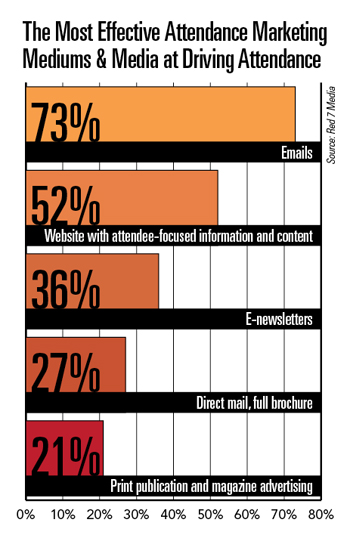 Arguably, the most important change in the event management business over the past decade has been the shift to digital attendance marketing. Less than 10 years ago, direct mail brochures were still the main attendance marketing method used by exhibition and conference producers.
Today, the top five most commonly used attendance marketing methods are e-mail, attendee areas of the website, e-newsletters, Facebook posts and direct mail postcards, according to a recent study of event and exhibition producers by Red 7 Media Consulting. Interestingly, more event producers mail post cards than full print brochures today.
Digital Is Top-Used Marketing Source
Seven of the 10 most frequently used attendance marketing mediums today are digital. Related to the shift to digital is the significant increase in new content and information developed by event producers. This content explosion is focused on driving attendance and adding value to attendees. The most common new content approach is to produce more information and news-based emails, according to 69 percent of event producers.
By far, e-mail remains the most effective medium, according to 73 percent of event producer survey respondents. The second most effective is the event website with attendee-focused information, content and registration links, selected by 52 percent of events.
E-mail is the most popular and effective method, but many show producers use a truly diversified approach to get the message out. In fact, there are over 25 different marketing mediums, types of media and approaches used by event producers. Social media receives a significant amount of attention but is still emerging as an attendance marketing medium. Fifty-two percent of event producers say they are doing more social media posts than a year ago, but only 16 percent say Facebook and 9 percent say Twitter are the most effective mediums for driving attendance.
The recent study asked event producers why the majority of their key attendees go to their events. The top three reasons are considered to be networking (according to 83 percent of show producers), access to education and learning (77 percent), and to see new products (70 percent).
Make Sure Your Education Is Top-Notch
In 2012, Red 7 Media surveyed a wide cross-section of attendees and asked a similar question about why they attend. Comparing the attendee and event management responses uncovers some interesting differences. Event producers and attendees are aligned on the importance of networking as a key reason to attend, but event producers feel attendees value the education and learning options more than attendees say they do.
It has never been more important to truly understand your attendees and why they attend, as well as why non-attendees don't attend. Each year, past attendees and prospects alike ask what's new, what's in it for me, is it worth my time, how much will it cost to go to the show, and how can I convince my boss to allow me to attend?
Michael Hughes is managing director of research and consulting at Red 7 Media Consulting, a division of Access Intelligence.
Meet the Author
---