Digging Deeper

Questex Media is evaluating costs in a way that saves money and boosts revenue.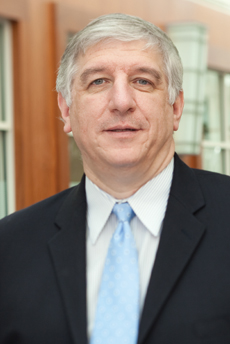 Last month, ABM's Business Information Network reported b-to-b ad pages fell 27 percent in January 2009 compared to January 2008— the largest single drop in a year (representing nearly 30 straight months of decline for b-to-b magazines). One week later, the Magazine Publishers of America announced that consumer ad pages fell 25.9 percent in the first quarter. Executives who at this time last year confidently claimed, "We've been here before," now say, "We've never seen anything like this."
With plunging revenue the norm for many publishers, controlling costs and reexamining revenue opportunities is essential. At the FOLIO: Growth Summit in March, Kerry Gumas, president and CEO of Questex Media, offered a presentation on productivity, efficiency and a new look at evaluating costs. Some of it included steps publishers have used all along—but Questex has managed to leverage them to identify missed opportunities and areas of potential exposure.
That doesn't mean Gumas has come up with a magic bullet. In 2008, Questex enjoyed double-digit revenue growth through the first three quarters of the year, but with the majority of its events occurring in the first part of the year experienced a rough fourth quarter that left the company with overall single-digit growth.
"We're coming off a strong year but in the second half, the print business in particular slowed down significantly," says Gumas. "As we come into 2009, we are experiencing across-the-board declines in ad volume. A small number of our titles are experiencing year-over-year growth through March but most are experiencing a decline. This has the feeling of us being the last guys to show up at a party that we didn't want to be at in the first place."
Last month, Questex laid off more than 40 employees, with cuts coming across a variety of different functions, due to the economic slowdown and to the decision to expand outsourcing in certain areas such as production and creative services. In March, Moody's Investors Service listed Questex among a list of 283 companies most likely to default on their debts.
Still, this could be the resume of almost any publisher right now. While Questex is having to make hard choices in terms of headcount and business direction, the company has come up with a formula that is saving hundreds of thousands of dollars in certain areas, and revealing revenue opportunities that could be worth millions.
"Print is under significant pressure and we're doing what we have to do to readjust the size of our business," says Gumas. "An assessment of the long-term view is important—we don't think this is just a couple quarters of decline and then the market will bounce back. This is a fundamental change."
In the story that follows, Gumas examines how Questex is re-assessing metrics in profitability, production, customer, sales and content and audience metrics.
Profitability: Make It Personal
Questex weighs a number of profitability measures (many of which are used by other publishers), such as process productivity and profitability, contribution margin, EBITDA and net income and free cash flow.
But the key for Questex is to make sure all managers are on the same page. "The starting point is we make a concerted effort to make sure managers at all levels understand their responsibility for profitability measures within their control as well as their contribution to overall company profitability," says Gumas. "That is pretty important—if you just use the word 'profit,' that means so many things to different people."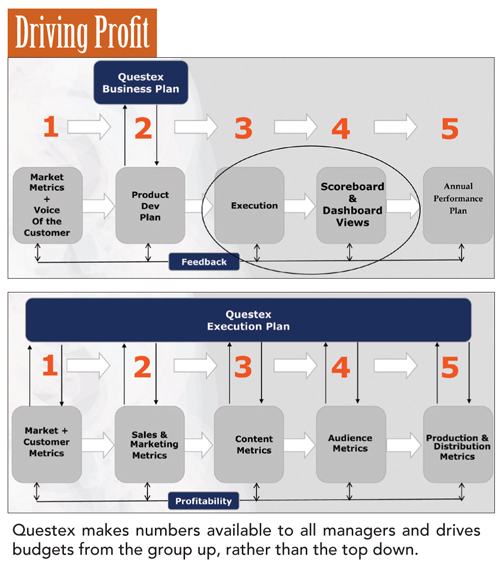 Questex establishes a baseline of understanding for what people's personal responsibilities are—which ultimately affects their compensation. "In terms of specific measures such as contribution margin, we track it on individual business units," says Gumas. "That's part of the compensation plans for senior managers such as the publisher and editor-in-chief in each group. It starts with basic access to numbers. The more access, the more visible they are, the more people work to manage them."
Controllers work with each group on budget planning but managers generate the budgets themselves, rather than the company applying a top-down budget from corporate. "We always began our planning process from the business unit up rather than corporate level down," says Gumas.
Questex takes revenue forecasts and adjusts costs accordingly on a routine basis. That includes focusing on some metrics that publishers haven't really weighed that heavily in the past.
"Take something very traditional like the ad/edit ratio. At some places it's reported more as a consequence of people's individual decisions," says Gumas. "We use it as a real tool to drive the number of pages from the beginning of the cycle. When you're producing many magazines, a deviation off the edit ratio can lead to a lot of incremental costs."
Profitability Metrics
• Process Productivity and Profitability
• Product/Property Profitability
• Contribution Margin
• EBIDTA
• Net Income
• Cash Flow
 
Customer/Market Metrics: Saving $100K+ on the Rate Card
Evaluating customer and market metrics is a multi-tiered process. Questex uses traditional approaches, such as looking at existing customers and prospects in terms of what they've spent with Questex properties in the past and the client's market share, which the publisher can equate into spending that's part of their marketing budget.
But the company also employs some non-traditional methods such as an active survey process (both formal survey and dialogue) of its customer base about spending allocations, including whether they are allocating more money to print or digital (and what part of digital, such as e-mail or search). "We try to build perspective and understand where their priorities are to develop the right product line and put solutions in front of them," says Gumas. "From a cost standpoint, this helps allocate resources where there is a real demand right now."
That process can yield some unexpected opportunities for savings and revenue. An example is the unit analysis that Questex did on its rate cards.
"We had many options for fractional pages on our rate cards," Gumas says. "When we looked at the marketplace over time, we learned that many of those options are not transacted very frequently. Why should we have them on the rate card at all? It sounds very simple but that means fewer steps for setting up the billing templates, it means fewer one-off ad orders, it means less  requirements from the classified department or even creative services. The one-off costs that tend to get lost in the equation, they go away."
Using this approach, Questex's Home Media magazine saw that 10 key accounts drive 80 percent of its revenue. Optimizing the rate card meant compressing more than 140 different rate options to a dozen. "Dollars, market share and customer renewal rates have all gone up," says Gumas.
Rate card optimization has enabled Questex to save significantly on production and creative services across the company. "Simply from rate card optimization, we saved a couple hundred thousand dollars over a one-year period," says Gumas.
Customer/Market Metrics
• Customer Objectives
• Customer Satisfaction
• Customer Renewal/Churn Rates
• First-Time Customer Renewal Rates
• Mix: Allocation of Marketing Budget
• Share: Customer Buying Trends
• Media Channel Preferences & Plans
• Customer ROI Benchmarks
• Media-specific Metrics
A LOOK AT QUESTEX' RATE CARD ANALYSIS
Sales Metrics: When the Little Guys Really Add Up
In recent years, Questex titles enjoyed growing advertising revenue. However, a closer examination of the sales side revealed how a rising tide can hide significant inefficiencies.
"We had a magazine that grew its revenue consistently over a three-year period," says Gumas. "But when we did the analysis, specifically of renewal rates and retention over that period, we saw there was a significant loss experienced. Although it looked like we were improving, what was really happening was a significant loss of economic opportunity."
As Questex extended that analysis, the danger became even more apparent; the company had lost smaller accounts that totaled $3.4 million. "By taking the renewal retention analysis and revenue per account metrics and ad unit analysis, one of the conclusions was that we had a sales force performing extremely well at the major account level where the ad buy was significant premium pages or run-of-book," says Gumas. "If the advertiser was smaller and buying smaller units, that was where we had exposure. Over time we had developed a sales force that was field sales oriented with not enough focus on mid-sized accounts."
Questex began shifting sales resources to a more balanced in-house and outsourced approach. "In Cleveland, we have a sales center where we have people doing nothing but selling to that middle market," says Gumas. "From a cost standpoint, that allowed us to reduce the cost of sales, and from a revenue standpoint, it gave us capacity to increase revenue."
Sales Metrics
• Number of accounts existing and new
• Number and dollar value of missing accounts and non-renewals
• Sales and revenue
• Cost of sales
• Dollar value of orders, transactions
• Total activities
• Face-to-face appointments/Call-meeting activities
• Proposals and IOs sent
• Ratios
• Number of activities and proposals
• Number of activities/IOs sent
• Number of activities/deals closed
• Revenue Per Rep (per time period)
• CoS/rep
CHURN ANALYSIS AND LOST REVENUE
Production and Distribution Metrics: Digital Growth
Today, most publishers are grappling with the fundamental issue of print economics versus digital economics. "We've established over time a broad range of metrics for helping us manage print economics," says Gumas. "In our case, we're going through a managed process of taking costs out of print business, doing so in manner that we hope would produce efficiency without a decreasing quality of the product."
The goal for Questex was to deploy savings into the digital businesses. "We're moving all of our brands from reliance on single platform data to multi-channel data," says Gumas. "The strategy is to provide customers the ability to reach the audience. We let the audience consume information in whatever format makes sense for them and give the advertiser as many different platforms." 
That means significantly increasing total audience delivery by increasing the digital reach—whether that's a digital edition, subscription newsletter, Web site or Webinar. "The economics of digital distribution are clearly less expensive than print and we're going back to the market metrics at the beginning and asking our editorial and publishing teams to rethink what audience segments are the most attractive," says Gumas.
Production and Distribution Metrics
• Press run
• Number of copies
• Prepress
• Printing
• Paper
• Postage (domestic and international)
• Number of copies mailed
• Book pages printed (ad, edit, revenue, NR pages)
• Magazine pages mailed (domestic, international, show/office/Fed Ex copies)
• Magazine pages printed (mechanical costs per page, prepress, printing, paper, postage)
Content & Audience Metrics: Creating an SEO Scorecard
Most publishers are scrambling to build out their digital products but most are also less than scientific about it.
However, Questex has developed an approach that not only monitors the online progress month-to-month but holds individual staffers responsible for certain tasks. "All of this in my mind, gets to the effectiveness of the content being produced, which translates directly to the cost and revenue side of it," says Gumas.  
The process began with Questex search manager Alison McPartland educating the entire portfolio—from publishers to editors and techies—on SEO best practices, including organic and paid search.  "The way the CMS was set up, a lot of editors created content then shipped it off to someone else rather than being hands-on with the site itself," she says. 
McPartland launched an internal wiki and a blog to aid group training efforts such as Webinars. She also created a Search Engine Optimization Task List with more than 100 functions but narrowed the list to five key responsibilities—indexability, linking, accessibility, keywords and meta tags—that can be weighed via an SEO Scorecard. "Hundreds of factors go into a search engine's algorithms but we're looking at five main factors that can be tied to a specific role, whether that's editorial or the site manager or someone else," says McPartland.
Indexability: The amount of pages indexed in the search engines versus the actual pages in the CMS. "We need to make sure that the pages indexed are ones that we want indexed and not just our comments page getting indexed 5,000 times," says McPartland. "If 20 percent of the pages Google is reporting are PDFs, that's not the quality pages we want. If we get 10,000 links, that's great. But because Questex is a portfolio and we have so many sites, maybe 5,000 links are from other sites. That's not really a negative for ranking but it means we're not reaching the right audience or not getting as many as we thought we were."
Linking Ratio: "If we identify certain areas of a site that we want to sell or have people read, what is that ratio versus the homepage or sub page?" says McPartland. "We want to see a good balance of homepage versus sub page sources for links."
Accessibility: This measures the spiderability of the site. "We look to make sure nothing is keeping search engine spiders from indexing our pages," says McPartland, who adds that Questex uses an internal crawler to go over the site before it's presented to the major search engines. "If there is a road block, we want to identify that and make sure it doesn't happen again."
Keywords: The ability to track the number of keywords the site is optimized on, and measure ROI.
Meta Tags: Meta tags can boost a site's visibility with specific key terms. "Do we have unique meta tags across the site?" says McPartland. "With CMS platforms, there's a lot of omission and a lot of times things get duplicated." Checking meta tags can be incredibly time consuming, so Questex looks for red flags, such as descriptions that might be too short. "If something is short, we pull a report on it to check," says McPartland. "That may be a sign that it isn't unique enough to be optimized for the search engine."
Content Metrics
• Circulation/uniques subscribers
• Edit cost per audience unit
• Edit cost per page, copy, issue
• Ad/edit ratio
• Edit pages/editor
• Page views
• Open rates
• Clickthru-rates
• Openers
• Forwards
• Audience Comments/Posts
• SEO Scorecard
Making It Clear to the Staff
Assigning responsibility and day-to-day tasks in terms the staff could understand was key to growing the Web sites. The goal was to create a quick-access benchmark system for publishers.
With Cadalyst.com, McPartland identified three core roles—Web producer, editor and development team—for managing the five main SEO factors. Each factor is weighted and assigned a performance score.  "That way people can say, 'If there's one thing you do for SEO, it's your title tag,'" says McPartland.
Each SEO Scorecard is also color-coded (green is good, red is poor, yellow is fair) to offer a quick reference on which SEO factors the staff is handling well and which need immediate attention. "The idea of green, yellow and red was to say 'Okay, meta tags are green so they're pretty good but linking is red, so that's what we need to focus on," says McPartland. "We can hone in on who's responsible for that, whether that's a Web producer who should be doing something about accessibility issues or whether it's an editor who should be rewriting their meta tags or keywords because there are duplicates. We can run a report and say to the groups, 'The Web producers are doing a great job but the meta tags are still a problem, which means we're not getting through to editorial, so we need to work more with them."
McPartland has recently started running reports against editorial identifying Web performance trends such as the Top 25 articles across all Questex sites, specific keywords that drove traffic and the author that the story is tied to. "We can go to them and say, 'Here's what you did right, here's what can be improved," says McPartland. "SEO results can take two or three months and by that time the ranking and indexing has lost the editor's interest. Now we're going to run quarterly SEO Scorecards for each site but also generate monthly reports on the top articles for that site, indicating who that the author was and what keywords brought readers to that article."
Meet the Author
---