Did You Know That Red Bull Has a Magazine With a 2.7 Million Circulation?

The Red Bulletin has carved out a big piece of the lifestyle market in 7 years.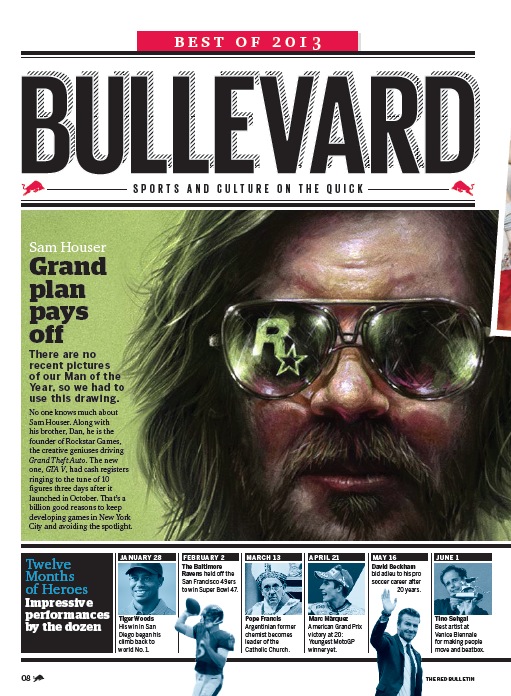 When you think Red Bull, you should think scale. Whether it's selling more than 35 billion cans of an energy drink in more than 165 countries, sponsoring hundreds of athletes or producing a men's lifestyle magazine that's printed in five languages and delivers more than 2.7 million copies globally, Red Bull aims to do everything big.
The Red Bulletin is the company's print magazine iteration, and it began in 2007 when the company launched its media division, Red Bull Media House. Red Bull Media house produces a variety of content, from print to video to recorded music. However, The Red Bulletin was the company's first formal standalone media product.
It would be easy to dismiss the magazine as a content marketing play, however the business model and content tell a different story. The magazine's revenue stream works just like most consumer magazines–subscription, newsstand and ad sales. And editor-in-chief of the U.S. edition, Andreas Tzortzis says that while content supports the parent company's mission, it's purpose is not just a tactic to sell more cans.
"The kind of stories we do are so varied, which is one of the great challenges each month," he says. "Because we cover stories from beyond the world of Red Bull, and increasingly that's become our mandate, we have shifted away from branded stories and have begun to push the boundaries and explore the exceptional."
What he means is The Red Bulletin covers many of the same concepts and issues other lifestyle magazines are tackling, but instead tries to contextualize them from the brand and its consumers' perspective.
"We occupy many different spaces," Tzortzis says. "We're able to tell stories from other countries in the perspective of people living there. Whereas a lot of American magazines tell those stories from the perspective of an American in another country."
Tzortzis admits that The Red Bulletin borrows from a lot of different magazines in that it covers a number of lifestyle topics including sports, music and gear reviews. But he does say that he doesn't see the magazine having a clear competitor.
The magazine publishes on multiple platforms beyond print including a website and an app. It also develops videos to complement its feature stories. Nevertheless, print is still the magazine's primary vehicle for reaching readers.
"I have a soft spot for print, as does our founder" Tzortzis says. But he says there's more to it than that. "Magazines can provide the context, we can slow down the story. So much of our world is quick-hit clips. But we place an emphasis on photography and our journalism, and I think that's where print lives. Print lives in the ability to step back, to slow down the pace and provide the context. And for Red Bull Media House it provides the ability to branch out."
What Tzortzis means by "branch out" is that The Red Bulletin taps into a demographic different from its typical beverage consumer–specifically, men in their late 20s and into their early 30s.
The magazine also recently redesigned its front of book section "Bullevard" under the direction of its new publisher Wolfgang Winter. The new design was developed in order to give the reader a "running start" to its feature well, according to Tzortzis. This is the magazine's second design upgrade this year, after overhauling the back of the book in early 2013. And Tzortzis says to expect more upgrades in 2014.
Meet the Author
---