Did Scantily-Clad Cover Model's Harley Ad Cross Edit Line?

Complex cover girl featured in motorcycle ad.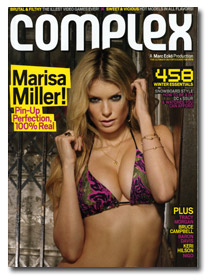 Sid Holt, the American Society of Magazine Editor's newly-appointed CEO, said recently that ASME is working on revamping its editorial guidelines to address the industry's increasingly blurry church-state boundary between advertising and editorial. "They don't seem to be current, so a lot of questions come up about them," Holt, a former editorial director at Nielsen, told Mediaweek. "We've had situations where we've seen violations of the spirit of the guidelines but not the guidelines themselves."
Perhaps this is one of those situations.
Complex magazine, one of the few men's product-driven magazines still standing, featured Marisa Miller, the Sports Illustrated swimsuit model, on one of its November covers (the magazine publishes a front and back cover, usually one with a model, the other with a celebrity). The issue has a six-page feature on Miller; included within the feature is a gatefold advertisement for Harley Davidson's V-Rod motorcycle, featuring Miller—from what appears to be the same photo shoot as the feature—in leather chaps straddling the two-wheeler.

Now, for starters, product-driven magazines—by definition—are not normally viewed as bastions of editorial integrity. And there's nothing inherently wrong with placing an ad featuring an issue's cover model in the same issue or even alongside the story. But when the ad creative appears to have been generated from the cover shoot—or vice versa—something doesn't quite seem right.
I emailed Complex about this. Here's their response:
It's a completely different photo and it just so happened that Marisa was on our cover and in Harley's new campaign around the same time.  It was a total coincidence, but we have been doing business with HD for a while now, so when we received the creative, it only made sense to run it in close proximity to the article. 
UPDATE: Apparently I wasn't the only one thinking Complex blurred the line. AdAge's Nat Ives asked Holt about the Complex kerfuffle. Here's what Holt said:
"To put it really bluntly, it looks like they sold edit for advertising … I don't know if they did that, and it may have gone down the other way around. I don't know what happened here, but it's obviously preferable to avoid the appearance of conflict."
I agree with Holt, although if it's only a couple of meddling media reporters who are thinking there might be a conflict—not Complex readers—then who cares?
Meet the Author
---