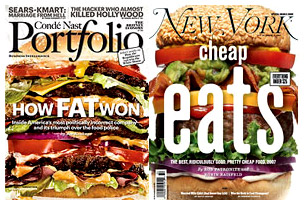 As New York magazine's blog the Daily Intelligencer not-so-subtly points out, there appears to be a striking similarity between the cover of Portfolio's latest issue and New York magazine's July 30 cover. (Daily Intel also makes the valid point that Women's Wear Daily has become something a mouthpiece for its parent company, Condé Nast.)
Did Portfolio steal from New York?
When I asked for comment, a spokesperson for Portfolio sent along the following note: "Thanks for getting in touch. We are actually going to take a pass on commenting on this. Please let me know if there is anything else I can do."
Guess you'll have to decide for yourself.
The undeniable similarity recalls Pablo Picasso's famous words: "Bad artists copy. Great artists steal."
It also recalls Picasso's other famous words: "What's with all the hamburgers?" Scientific American put out its own burger cover this past September.
Feel free to leave any other examples of hamburger-cribbing in the comments below.