Did Parade Handle Bhutto Coup Correctly?

Why mag made right call to publish—and wrong one to publicize.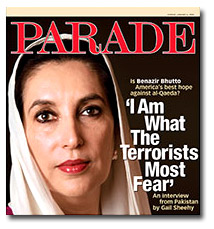 When you're a magazine like Parade, you don't tend to scoop anybody. Unless the interview you did with former Pakistani Prime Minister Benazir Bhutto in November, slated for a January cover, becomes chillingly prescient when she is assassinated in a suicide attack more than a week before the article is scheduled to be published.
As FOLIO: reported, the magazine's decision to immediately post the interview on Parade.com paid off in record-breaking traffic for the site. The writer, Gail Sheehy, appeared on the O'Reilly Factor, Larry King Live, CNN's The Situation Room, the CBS Early Show and ABC Radio to talk about the interview.
The print version, which arrived on America's doorsteps this weekend, made no mention of the assassination—referring to Bhutto as "America's best hope against Al-Qaeda"—and has subsequently drawn criticism. One FOLIO: commenter wrote:
Any journalistic outlet that publishes in newspapers ONCE PER WEEK would have made every effort to change the story to reflect the assassination. To allow those copies into print was tasteless and lazy, regardless of whether it went to print or not.
I won't pretend to know what any journalistic outlet that publishes in newspapers "ONCE PER WEEK" would do or not do. But I do know that if I were the publisher I would've demanded the production team either create a sticker to be placed on the issue explaining my decision to publish, or pull it out entirely.
And, call it the Jamie Lynn Spears rule, but I would've also done little in the way of publicizing the "coup"—who watches the Early Show anyway?—and certainly wouldn't have put out a press release touting a "beyond the grave" interview.
UPDATE: Publisher Randy Siegel told the Associated Press that the only
option other than to run the outdated article would have been asking
newspapers not to distribute the magazine at all. "We decided that this
was an important interview to share with the American people," he said.
Meet the Author
---