Did Golfweek's 'Noose' Editor Deserve To Be Fired?

Open question.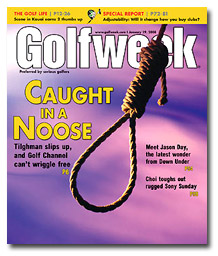 Golfweek fired its editor earlier today, less than a week after publishing a noose on its cover. The noose was an attempt to illustrate a story on the racially-insensitive remarks made by a Golf Channel announcer about Tiger Woods. The anchor, Kelly Tilghman, suggested on-air that Woods' rivals "lynch him in a back alley." She was later suspended.
"We apologize for creating this graphic cover that received extreme negative reaction from consumers, subscribers and advertisers across the country," William P. Kupper Jr., president of Turnstile Publishing Co., the parent company of Golfweek, said in a statement. "We were trying to convey the controversial issue with a strong and provocative graphic image. It is now obvious that the overall reaction to our cover deeply offended many people. For that, we are deeply apologetic."
Representatives for Woods called it a "non-issue." The PGA Tour, which had threatened to pull their ads from the magazine, told me that "Golfweek's decisions around its editorial leadership to be purely an internal Golfweek matter and we have no further comment."
Did he deserve to be fired for "trying to be provacative"? Leave your answers/rationale in the comments below.
Meet the Author
---