Did Blender Blur Ad-Edit Line?

ASME calls sponsored rock-n-roll spread a "clear violation."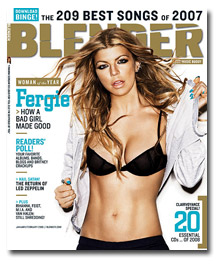 Since its inception in 1999, Blender magazine has tried to distinguish itself as an alternative to the Rolling Stone establishment of rock journalism.
Now it appears to be following Rolling Stone in blurring the advertising-editorial line.
In its January-February issue, Blender published the "2008 Rock & Roll User's Guide," a 16-page new music preview sponsored by Sync, Microsoft's in-car voice-activated technology. In it, a small logo that reads "Presented by Sync/Powered by Microsoft" appears on five of the section's 10 editorial pages, with the other six pages devoted to Sync-related ads. Four of those logos ask readers to log onto fordvehicles.com/sync for free MP3 downloads.
"I would say that this is a clear violation of our guidelines," American Society of Magazine Editors executive director Marlene Kahan told FOLIO: on Monday.
According to the American Society of Magazine Editors, "sponsorship language (ie, "sponsored by," "presented by," etc.) should not appear in connection with regularly occurring editorial features" unless the editorial content "is labeled 'Advertisement' or 'Promotion' in a type size as prominent as the magazine's normal body type." [SEE: ASME Guidelines.]
A spokesperson for Blender said the section was purely editorial and that the preview was written prior to selling the sponsorship. A spokesperson for the Alpha Media Group, the owner of Blender and Maxim, declined to comment on the details of the sponsorship, and said that the company is commited to adhering to the guidelines set forth by ASME.
The Blender feature comes on the heels of a class action lawsuit filed by 185 indie rock bands in December against Rolling Stone over a sponsored nine-page pull-out spread that the bands said used their names without permission.
Five of those bands represented in the class action suit appear in the Blender preview. Representatives for My Morning Jacket, one of the bands appearing in both, declined to comment.
The Rolling Stone suit followed a separate lawsuit filed by attorney generals in eight states against R.J. Reynolds—the section's sponsor—claiming the company illegally used cartoons in an advertorial to sell cigarettes. Rolling Stone said the cartoons were part of its editorial treatment—and not R.J. Reynolds' idea.
RELATED DISCUSSION: Does Anyone Care About ASME Guidelines?
Meet the Author
---