Did Another Magazine 'Lighten' a Dark Woman?

Complex's retouching of Kardashian follows trend.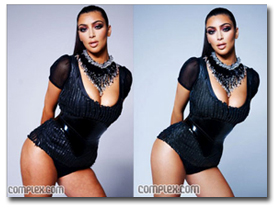 What do Beyonce, Michelle Obama, and Kim Kardashian have in common? They've all gone under a magazine's Photoshop knife and come out looking lighter.
Most recently, Complex mistakenly released a pre-retouched image of socialite-model-actress Kim Kardashian on its Web site with (gasp!) cellulite on her thighs. The photo was only up for a few hours, and quickly taken down when the mistake was realized.
The cellulite, however, was less disturbing than the fact that the photo's background—and Kardashian—got visibly lighter from pre-touch to retouch.
In 2005, Radar claimed that Vanity Fair lightened singer Beyonce's skin color for its cover. And in the past few weeks, Michelle Obama's airbrushed makeover on New York's cover received its share of criticism. (Not as much as her husband's Rolling Stone cover, which some alleged made the then-president-to-be look "whiter" and downright angelic.)
While some, like Fox News' Megyn Kelly, believe that "any respectable magazine should be doing a little retouching," how far is too far?
Meet the Author
---