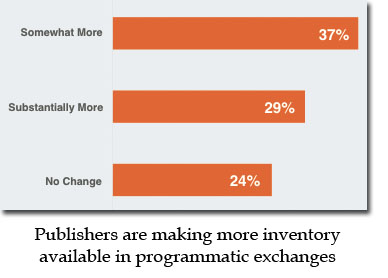 The march toward programmatic buying may be further along than we thought.
More than 70 percent of the publishers surveyed in a report by Digiday and OpenX use some form of programmatic buying at the moment. The results have been pretty good for them so far—55 percent say revenues from programmatic trading are up.
Part of that jump has to do with an increase in available inventory though. Of those that are automating at least a portion of their ad sales, more than half have upped the space available to bidders in the last 12 months. The majority think inventory will continue to rise in the near future.
Whether the bottom-line success is real or just a function of volume, publishers are still hesitant about the process. Close to half of those surveyed feel that buyers have an inherent advantage in the current system, citing divergent value propositions and access to independent metrics. While buyers didn't seem to think the system was wholly unfair, they tended to admit an imbalance in their commentary.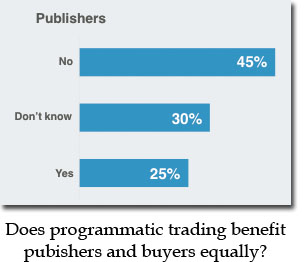 Buyers and sellers views differed sharply on the types of content available via programmatic trading however. Fifty-seven percent of publishers say they only sell remnant inventory programmatically, while just 12 percent of buyers say they're purchasing remnant only-a significant gap between the supply and demand channels.
Other points of contention—most notably, control over CPM, maintaining direct relationships with buyers and keeping ad quality up—remain present.
The differences aren't insurmountable though. Nearly a third of those who haven't jumped on board with programmatic yet, say they will within the next year.
To stay updated on the latest FOLIO: news, become a Facebook fan and follow us on Twitter!