Despite a Brutal Year, The Number of Shelter Magazines Grows

Report: Home category has seen top growth over the last five years.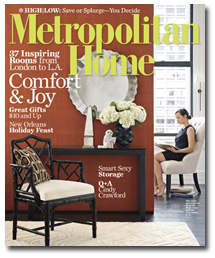 Hachette Filipacchi announced Monday that Metropolitan Home will shut down after its December issue, adding to the already-substantial list of ceased shelter pubs this year. But despite a tough '09 for the sector, recent data reports that home magazines have still seen top growth over the past five years, meaning the number of
individual titles has actually grown.
According to the 2010 National Directory of Magazines, which tracks data for 17,020 North American pubs that accept advertising, home titles have seen top growth in titles of 167 percent. Since 2004, that's an increase from 105 to 280 titles in the
category. Real estate publications have also nearly doubled during this period.

The initial reaction, of course, is surprise, considering today's news and the number of shelter titles that bit the dust earlier this year, including Domino, Western Interiors Design, Remodeled Chicagoland, and Florida Designers Review. PIB numbers confirm that the category is suffering on par with other sinking sectors (ad dollars decreased
by 9.3 percent and 22.6 percent in Q3 since the same period last year).
Even home and interior design category leaders like Dwell and Hearst's House Beautiful have been hit hard. Dwell saw ad dollars plummet 43.4 percent and ad pages decrease 46.4 percent in the first half of '09 versus the same period last year. House Beautiful didn't fare much better in the first half: ad dollars declined 21.8 percent and ad pages experienced a 26.1 percent loss from first half 2008, according to PIB figures.
Ugly numbers aside, the category has also seen its share of launches this year, including a stable of Reader's Digest "Family Handyman" titles, Cottages & Cabins, Modern, DG Commercial, Great Kitchen and Bath Ideas, Designer's Choice, Today's Home Improvement, SOHODESIGN and Lonny Magazine.
Back in January, Kate Kelly Smith, vice president and publisher of House Beautiful told FOLIO: that shelter magazines weren't going away any time soon, but "category leaders" and those with a "diversified" business would better weather the storm. Almost a year later, Kelly Smith's prediction is correct, according to the data. As home titles fold, others quickly pop up to take their places.
With the barrier of entry to launching new magazines still fairly low, it's probably not that surprising so many new titles came into the shelter category. Who will remain five years from now is the bigger question.
Meet the Author
---