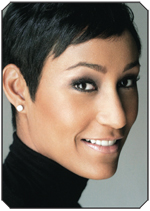 In less than two years, Desiree Rogers reworked Johnson Publishing's circulation model, increased advertising and oversaw a major overhaul of Ebony Magazine in print and on the Web.
When CEO Desiree Rogers began with Johnson Publishing 18 months ago, she walked into a challenge. "What I really found was a company in mourning. We lost both our founders, and we needed to restore our brands, Lady Jet and Lady Ebony," she tells FOLIO:.
Rogers, whose previous experience includes a stint as White House social secretary during President Barack Obama's tenure, contends the rather complicated business of publishing can be broken down into three pillars: Consumer/editorial, circulation and advertising sales. Within the first weeks as Johnson Publishing CEO, resuscitating circ became a main focus.
"For years, we had been up and down on circ. We had gotten into a pattern where it was unclear whether or not we would deliver on our circulation numbers," says Rogers. "After we focused on the circ process, we decided to make an investment in a circ partner."
Circulation is now outsourced, and Rogers says the publisher consistently over-delivered on circ numbers throughout 2011. Another win for Johnson Publishing came in July, when JPMorgan Chase's Special Investments Group bought an equity stake in the company. The size of the investment was not released, but the capital would be infused in both the print and digital side of the business.
A redesign for Ebony in-book and online transpired in 2011, along with a refocus on cultivating advertising client relationships.
"It's not about selling pages; it's about developing relationships where clients are understanding how we can be the conduit to Black America. We have 23 million readers between two publications and our websites," says Rogers. "I've been on sales calls in the first quarter to hear what clients want from us, and then working on strategic programs that allows them to really continue the partnership." 
VITAL STATS: The February 2012 issue of Ebony increased 46 percent in ad pages, with new advertising partners such as Smirnoff, Smart Water and Verizon, among others.