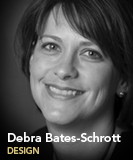 As I continue the design strategy discussion from my previous column in the September issue of FOLIO:, we move on to the Define phase. This phase can only take place successfully if you have completed deep analysis and can begin to draw solid conclusions.
The first step to defining your strategy is creating or refining a mission statement. The most basic reason to have a mission statement is that it is a stake in the ground to define your publication. It should be used to measure all content and decisions. If it doesn't align with the mission, it doesn't go in the publication.
Defining the content strategy is the next critical step. With a clearly defined content strategy you can leverage resources, feed additional media channels and drive consistent design. This approach will help you create more targeted and engaging publications.
The following are some basic questions that should be answered by your content strategy:
• What content can be leveraged cross media? (print, Web, video, webinar, etc.)
• How much content?
• Where will the content come from?
• How will you manage the editorial process?
• Do you have signature content?
• How will you consistently deliver to your audience segments to meet their needs?
• What is the lens through which your readers view your content?
Once you have a content strategy in place, it is time to create an issue map. The issue map is important to ensure there is the right mix and length of content for your reader. It defines the content structure of the magazine. How many pages will each section be? What is the best order and flow for the content? How long will each article or section be?
The Final Map
With these questions answered, a final issue map can be created. This issue map gives the designer a strategy to guide their work in developing a structure for your magazine that works now and will need less rework or redesign in the future. Beyond the design phase, a tight issue map makes the gathering and creation of content easier and more streamlined.
With your editorial strategy in place, you are ready to define the redesign or design process. This process includes mapping out a reasonable timeline for the redesign and the regular production schedule. A redesign should be given about 3-4 months to effectively engage in a collaborative process with solid results. This is also the time to clearly define the roles and responsibilities for sharing information or providing feedback. Taking care of this upfront will avoid a lot of stress and awkward communication during the working process.
An important step of the design/redesign phase is to define a list of pages that will be comped by the designers and deliverables you will be receiving for a redesign. What unique pages will you need to see to show the structure and tone of the magazine? Will there be a final brand guide created along with the templates, master pages and style sheets?
Other critical items to define before the design phase include due dates and a feedback process for proofs, art selection and mission/brand alignment.
If you take a strategic approach and clearly define these critical components, the next phase, Design, will flow more smoothly and create a more successful final product for your magazine.
Debra Bates-Schrott is president of design firm Bates Creative group and has more than 16 years in design strategy, management and art direction for magazines and organizations.