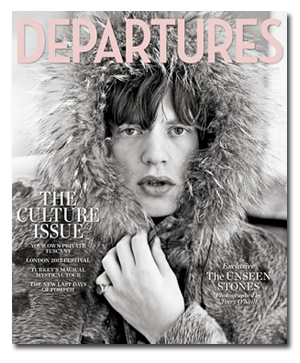 Departures, American Express Publishing's luxury travel title, is seeing gains in print and online advertising, and will be increasing its rate base in the new year.
Ad revenue for the print magazine grew by 12 percent and paging grew by a total of two percent in 2012. The news marks the title's second consecutive year of growth—in 2011, the magazine saw a 46 percent increase in ad revenue and a 43 percent increase in paging. Revenue from the digital side also increased by 144 percent for the full year of 2012. In all, 78 new advertisers joined Departures this year.
In addition to posting advertising gains, the magazine will increase its rate base to 900,000 in 2013. This represents a 2.9 percent jump from the current guarantee of 875,000 and an increase of 7.1 percent from 2010. According to its most recent BPA Publisher's statement for the six-month period ending June 2012, Departures' total circulation was over 1.1 million.
The publication will also introduce a special issue in May 2013—Departures Home + Design—its first-ever brand extension that will be distributed to a circulation of 500,000.
"Our two year revenue growth at the magazine reinforces the reliance and value of print advertising for luxury marketers," says Departures senior vice president and publisher, Steven Deluca, in a prepared statement. "Our new digital products, such as our Blackbook App, help our partners reach their customers through multiple touch points and stay relevant in an ever changing retail environment."
Stay updated on the latest FOLIO: news, follow us on Facebook & Twitter!