DEPARTURES Sees 64 Percent Climb in Advertising Pages in First Half of 2011

Experiences 60 percent increase in revenue.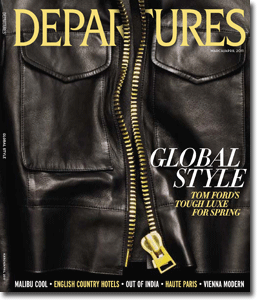 DEPARTURES magazine, published by American Express Publishing Corporation for Amex Express Platinum Card and Centurion members, is projecting a more than solid first half of 2011.
In a statement released today, DEPARTURES is set to have a 64 percent increase in ad pages in the first half of 2011 from 2010's first half. Companies such as Christian Dior, Nikon and Preferred Hotels are among the 55 new advertisers to be included in the 2011 January to June period with DEPARTURES.
DEPARTURES is also set to see a 60 percent increase in revenue compared to the first half of 2010.
Steven DeLuca, vice president/publisher of DEPARTURES, said, "Our strong advertising momentum and growth illustrates the robust resurgence of the luxury marketplace."
DEPARTURES has been awarded two Gold Medal nominations for its March/April 2010 cover and for Maira Kalman's Venice Carnival Portfolio from October 2010 by The Society of Publication Designers. The publication is also nominated for the 2011 M.K. Fisher Distinguished Writing Award for Colman Andrews' October 2010 article "Everything Comes from the Sea".
According to the Publisher's Information Bureau, DEPARTURES saw a 42.8 percent rise in ad pages from 123.59 pages in 2010's first quarter to 176.48 pages in 2011's first quarter.
Meet the Author
---