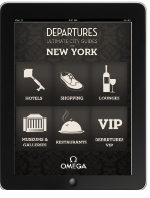 American Express's DEPARTURES magazine is poised to enter the e-commerce space in early October, offering limited edition products through its new eEXCLUSIVES campaign.
eEXCLUSIVES are retail items available for e-commerce purchase, with offers from DEPARTURES advertising partners such Saks Fifth Avenue, Akris and Brunello Cucinelli. Steve DeLuca, DEPARTURES vice president and publisher, says limited edition offers will typically run about two weeks. While there are no discounts being offered to buyers, the products featured in eEXCLUSIVES are available only to American Express Platinum and Centurion credit card holders.
Advertisements for eEXCLUSIVES will be featured in the print magazine as well as the DEPARTURES home page. Details and purchasing options will be placed behind a firewall, and users will have to authenticate their identity to access the products.
DeLuca says, "The e-commerce option is only open to our advertising partners. There is no revenue share on the sale, but it is part of their working relationship with us through advertising and other marketing channels."
Other new editions to DEPARTURES' portfolio are the Ultimate City Guides, 10 location-specific digital guides broken down into six categories containing editorially curated recommendations that will available for the iPhone and iPad starting September 1.
The City Guides will be released in September, with the first guide focused on New York City; October's Guide will feature Hong Kong in tandem with DEPARTURES' Asia-themed issue; and the November Guide will showcase Miami. The seven remaining guides will be launched as a package in January, to coincide with the holidays. Guides are available for free download for subscribers.
Each guide will include six categories: hotels, restaurants, shopping, bars/lounges, museums and galleries, as well as a VIP category. The first five categories will be updated every six months, while the VIP section (which will include current happenings in the Guide's designated city) will be constantly updated by editorial staff. The Ultimate City Guides are sponsored by Omega.
DEPARTURES is seeing strong growth this year, with a 24 percent increase in revenue and 16 percent increase in ad pages from September 2010's issue vs. September 2011's issue according to a company press statement.
Of the growth in ad pages, DeLuca says, "What we've been able to focus on is the affluent customers and the companies that cater to them. We know that for our advertisers, the aspirational customer is gone. The more high-end advertisers need to focus on the people who have money and are going to continue to spend."
The average DEPARTURES reader's income is $476,000 yearly.