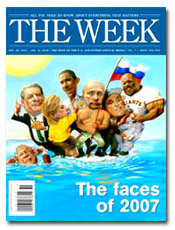 Felix Dennis kept The Week out of its $240 million sale of his U.S. publishing division, and now the company is buying products to complement it.
Dennis Publishing has acquired The First Post, a British online daily covering current affairs, from First Post Newsgroup Holdings, a private company. Terms of the deal were not disclosed, and a Dennis spokesperson declined to comment on the sale price.
The move confirms rumblings that The Week would focus more energy on the Web this year, and expands the company's current affairs portfolio.
First Post's traffic tops a million unique visitors a month, according to Dennis. All 12 of the site's staffers will become Dennis employees. Steven Kotok, The Week's general manager in the U.S., called deal an "ideal match."