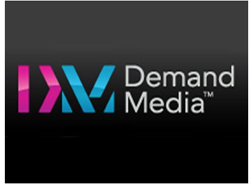 Demand Media released its financial results for the second quarter of 2011, as well as its numbers for the first half of 2011. While more traditional media companies only fared so-so in January-June 2011 (ABC released its first half numbers yesterday; about half of magazines reported circ declines), Demand Media saw a strong first half, with both revenue and page views up.
Page views were up 31 percent from 3.948 million in January-June 2010 to 5.155 million in January-June 2011. According to Demand's financial report, "…page views were positively impacted by a product change associated with certain page features, including the presentation of picture slide shows, which did not impact advertising impressions."
Overall revenue was also up for the company, increasing 39 percent from first half 2010's $114 million to first half 2011's $158.97 million.
The first half of 2011 included a multi-year advertising campaign with L'Oreal USA cosmetics, an expanded ad partnership with Google, a Rachael Ray and Buddies branded segment in its eHow Food channel and the acquisition of social sharing app RSS Graffiti.
While Demand saw some hikes in the first half of 2011, it experienced some hits as well. Its loss from operations increased from January-June 2010's $4,256 million to $5,071 million.
Demand's net income loss increased as well, rising from first half 2010's $6,049 million to first half 2011's $7,953 million.
The first quarter of 2011 brought change for Demand Studios, often referred to unfavorably in the publishing industry as a "content farm" (due to its large number of writers and content, and low pay grades for those writers). Feature-length story writers are now paid between $80 and $350 for their work; $15 was the previous payment norm from Demand.
In addition to better compensation for its writers, the company's platform now supports line edits, rewrites and photo treatments. Content is screened for plagiarism as well.
Jeremy Reed said of these changes (which were in part due to Google's algorithm change, aimed at "low-quality sites"), "What we realized and what we kind of always knew is that we needed to develop a fully realized editorial strategy. There has to be content for things we could answer, especially in 500 words, but also content that had more of a story arch, content that we interviewed people for."