---
For many publishers in 2017, video has become a significant format for audience engagement. In October, Hearst's popular food site, Delish, had its best month ever, according to data from comScore. The brand saw a rise to 25 million unique visitors, a 43 percent increase over the same period last year, as well as a spike on social platforms, growing to 15 million followers on Facebook, a 100 percent increase over last year. With 500 million video views per month, Folio: spoke with Delish's editorial director, Joanna Saltz, on the food site's recipe for success. 
Folio: Tell us about Delish's content strategy and the audience the brand is hoping to reach.
Joanna Saltz: When I came on board two and a half years ago to relaunch Delish, my team and I felt like food media had become too much of an exclusionary experience. It was always about watching other people—more talented people, frankly—make food behind a counter. There was nothing about it that was inviting … like a cool chef party going on that regular people weren't invited to.
We wanted to make a space that was for everyone — people who liked to eat more than they actually liked to cook. We created a content strategy that was as much about delicious, easy recipes as it was about food as a fun lifestyle and cultural phenomenon. We produce nearly 200 recipes a month, but we're also creating videos about our favorite brands, restaurants, and stores, or celebrities and their eating habits. We package everything with so much personality and humor that you watch because you're entertained — and you learn something while doing so. When I can compel someone who wasn't even planning to cook this weekend to make something because it looks fun and easy enough, that's a huge win.
Folio: We saw that Delish had its most successful month ever in October, up 43 percent in unique visitors over the same period last year. What do you think contributed to this growth? 
Saltz: We're really big on turning non-moments into food moments. As a culture, we're always thinking about our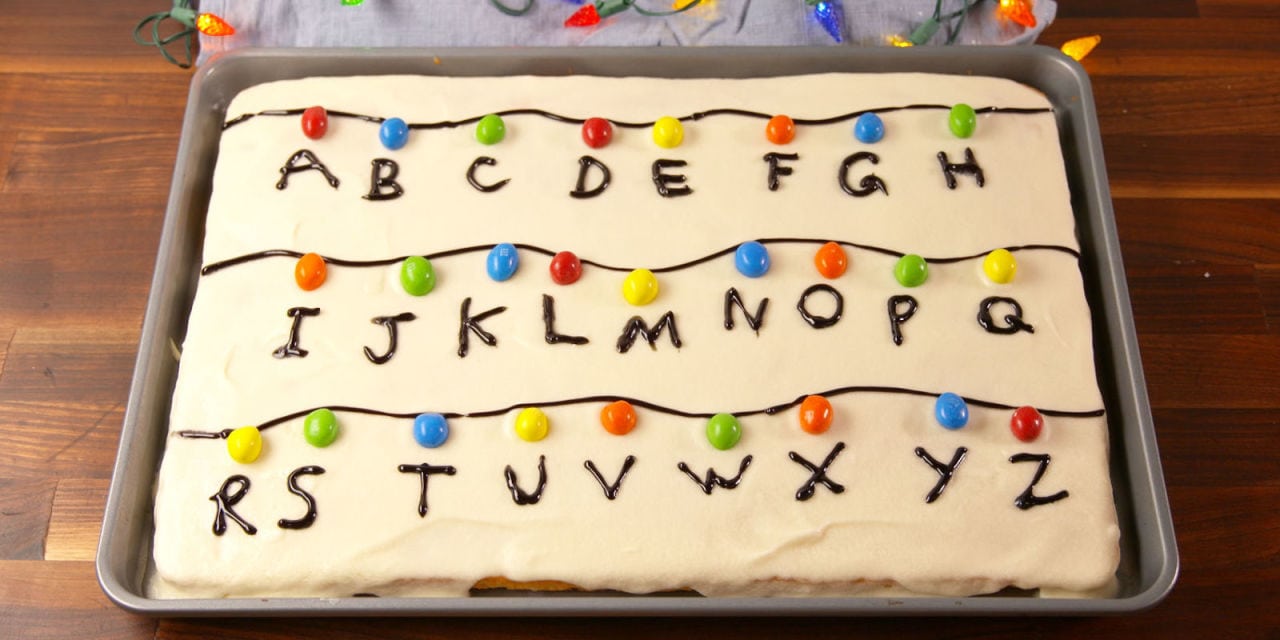 next meal, so why does media only obsess about food around holidays like Thanksgiving? So we spent a lot of time this past year strategically putting Delish in places food doesn't usually go, like creating recipes and content around movie openings or season premieres of TV shows. We had a nice win with our "Stranger Things " cake this fall, and our audience can't get enough of "Harry Potter" and "Hocus Pocus" anything. Their fans share our content, and our brand gets in front of eyeballs that maybe it wouldn't have otherwise.
But to be fair, I don't think any one piece of content contributed to the growth. I think that more and more people are recognizing us as a brand that's different from the sea of food video producers out there, and they want to come hang out with us.
Folio: What about your you describe your social strategy?
Saltz: We're obviously video-heavy — we produce 60 videos a week: fun recipes, long-form features, and episodic series like our runaway hit WTFood?, which is hosted by our deputy editor Lindsay Funston. But we also feel totally comfortable covering royal weddings and other random food-adjacent content—we want to be part of those conversations too. We really try to approach our social platforms as if we're a person, not a brand. What would your funny, dialed-in friend share? That's our barometer.
Folio: What social platforms have you found to be the most successful for D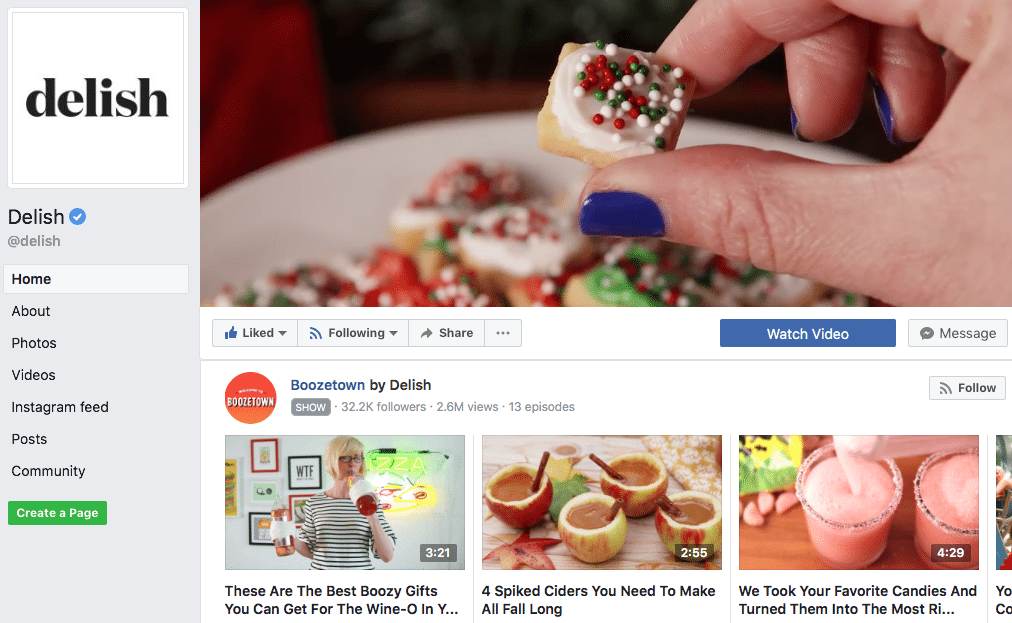 elish content? How do you generally measure that success?
Saltz: Our content plays out so well on Facebook and on Instagram because it's made to be shared. We definitely look at video views — we now know how a video is going to do within its first 6 minutes of being published. But we're always more interested in engagement: Are people talking about it? Are they tagging their friends? Are they clicking through to the recipe? It's one thing to get someone to watch — that's not too hard in this day and age when we're all assaulted by video — but if you can make someone stop, maybe laugh for a moment, and then share it with a friend, you've made your brand infinitely more memorable.
To that end, our social growth has been organic. The people who get our content truly want it, and their friends want in on that fun. That's why I think we've grown so nicely.
Folio: What do you think sets apart Delish from its competitors and makes it so appealing to users?
Saltz: From the outset, we wanted to create content that felt so different that you'd immediately know a Delish video without even seeing the branding. Voice and vision is really important to us. From a voice perspective, our videos are loaded with soundbites and punctuated with funny kickers, and we're really particular about the music we choose. But also HDM's creative director Nick Neubeck has always pushed us to make our content as visually surprising as possible: quirky graphics, emojis, recognizable pop culture moments. We were really the first to do that in the food space — we used them as tricks to make our audience and their friends feel as welcome as possible, to want to come play in our food space, because they weren't seeing our faces. Nothing we make feels cold or machine-made.
Folio: Can you give us a glimpse into what the workplace atmosphere is like at the Delish office? What does a typical day look like?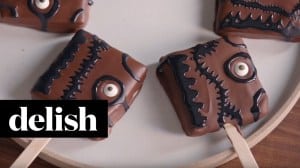 Saltz: I'm sure everyone says this, but nothing about the Delish workplace feels like work. We have two test kitchens constantly blaring Drake, and we've turned a corner of the Hearst Tower into what feels like a food circus. Our meeting room, the Pizza Lounge, has more food beanbags than actual open floor space.
A typical day is chaos, but in the best way — we usually have two shoots going on in our kitchens and one person shooting out in the field. We're putting out around six videos and 20 stories a day, so we're working hard to get all that content approved and posted. Food from the test kitchen will show up throughout the afternoon and while people attack it like vultures, a debate will break out over the best Starburst color … and we'll get totally derailed. By the way, if anyone reading thinks anything other than "red", we'll have words.
Folio: What are your plans for Delish moving forward and evolving in the future?
Saltz: Right now, we're really interested in telling the bizarre food stories you won't see anywhere else — the contestants at the Beer Pong Championships, or the guy who's been prepping to win the world record for building the most gingerbread houses. But we're also expanding in the food space as well. We have an insane cookbook coming out in fall 2018, a TV pilot in the works, and we're working on plans for a major event and new test kitchen that I hope will blow people's minds. But I honestly don't see the top for Delish. This brand has unbound potential.