BRAIN magazine offers both digital and print.
Beginning with its May 1st issue, Bicycle Retailer and Industry News (BRAIN) has added the option for subscribers to receive a new digital version in addition to or instead of the print edition.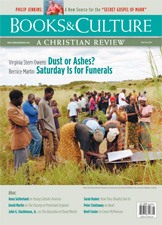 Christianity Today's Books & Culture lives on in digital.
Less than nine months after a pledge drive saved the publication from closing in 2013, Books & Culture has released a biweekly digital edition featuring reviews and news from a Christian perspective.
Acquisition of Audience Media by Zinio.
The digital platform company Zinio has acquired Audience Media, a company that provides CMS and app services for magazines such as ELLE, Marie Claire, Cosmo and more. Created in Barcelona but now based in Vietnam, the service currently has 30 apps under the its name in the Apple App Store, and possibly more publishers who want their branding instead of Audience Media's. So far its magazine apps are simply replica editions of the print versions.
WSJ's new digital video magazine.
The Wall Street Journal has launched new platforms for its expanding video content, including the new digital video magazine, Signal. The magazine will include excerpts from filmmakers and emerging talents, interviews with celebrities and luminaries and a mix of short videos from WSJ contributors around the world. This will add to WSJ's existing shows "The Short Answer" and "Startup of the Year."
New website and digital magazine for cyclocross.
The publishers of Singletrack, the U.K.-based magazine on mountain bikes, are launching a digital magazine and website focusing on cyclocross, a sport similar to motocross racing but using bicycles. The website, called grit.cx, will premier at the end of the summer, and the first issue of the digital magazine will be available in early October. The magazine will feature stories and influences from the U.K., Europe, the U.S. and other countries where the sport is growing in popularity.
Emergency Management website getting a makeover.
A newly redesigned website for Emergency Management magazine will be rolled out soon. The format will likely be similar to other e.Republic websites, such as Governing and Government Technology. The website, like for its sister publications, will feature digital links to all articles from the print editions.