Mobile publishing is the disruptive channel du jour, for which many publishers are anxiously seeking a viable strategy. What was a relatively marginal niche for magazines—content feeds on smartphones—became a broad phenomenon with the advent of tablets in 2010. Delivering rich magazine content to portable devices is the latest opportunity—or threat, depending on who's talking.
False Starts
One thing we are learning, reluctantly, is that digital facsimiles of printed pages are not the ideal medium for mobile publishing, even though they are easy to produce for the desktop—and even practical where print distribution is difficult. Page dimensions dictated by printing realities are less than ideal for even the larger tablets, and certainly for smartphones. Presentations that work exceptionally well in print—like two-page spreads—do not translate well to a different medium.
Print-centric page design also does not automatically lend itself to the rich media potential of mobile publishing. There are times when a vertical page can be a good starting point, with video thumbnails embedded like still images in a text layout. However, many publishers are discovering that an entirely new publication, with less text and an initial horizontal view—like a video screen—is a better approach.
Even text is increasingly breaking out of its print-based layout and appearing in separate e-reader windows. To cope with the increasing number of screen sizes and user preferences for their mobile experience, publishers are discovering the need to keep their print and mobile presences "federated"—alike in brand, but distinct in content delivery style.
Engagement, Engagement, Engagement
Declan Moore, president of publishing media at National Geographic, is enthusiastic about the opportunities that mobile affords publishers. "Mobile gives us a huge brand identity boost, combined with the unique capabilities of the devices themselves," he says. "With the addition of new media, mobile publishing allows us to tell our story in a way that was just not possible with print alone."
Behavior patterns and preferences of subscribers to a particular brand are quite often the guide to a sound mobile strategy. Moore pointed out that The Economist, who's readers' travel time is often their most available free time, has focused a large part of their mobile strategy on digital audio versions of the magazine's articles. Consumer brands, driven by their readers' attachment to multiple mobile devices, often strive to make content available anywhere—to be started on one device, and continued on another, notes Moore.
Two very different Condé Nast publications have come to similar conclusions regarding audience engagement and mobile. Jason Wagenheim, publisher of Teen Vogue, and Pamela McCarthy, deputy editor of The New Yorker, both emphasize that their brands' mobile strategy stems in large part from what McCarthy describes as the need "to be everywhere the reader wants to find us."
The New Yorker has been an early adopter of mobile channels, from Kindle and Nook editions in 2009 to various tablet offerings from 2010 on, and an upcoming smartphone version, with a particular emphasis on reading articles on any or all devices and media. Teen Vogue's "brand everywhere" approach has focused—understandably—on smartphones and social networks, supporting their constituents' lifestyle and shopping habits. Their new Teen Vogue Insider app is a case in point, facilitating greater interaction with editorial and advertising content, with easier paths to online and brick-and-mortar purchasing.
Counting the Cost
Publishers are finding that time and labor costs are often underestimated, not only in initial development but also in ongoing production of each mobile product. "Unless you want to duplicate your production department, you can't develop two new editions for two different devices at once," says McCarthy. "For each new platform, we carefully estimate how many extra hours will be needed, whether that time is available from existing staff, and how much of that time will have to come from a new person."
The New Yorker has come to rely on the standard "toolbox" of its digital publishing environment—in this case, Adobe DPS—to provide a consistent approach to rich media such as infographics and image galleries, optimizing them as much as possible for multiple platforms and devices. McCarthy emphasizes that while a production cost "rule of thumb" is unlikely, a publication's project-by-project experience typically leads to workflow efficiencies that make multi-platform publishing manageable on an ongoing basis.
When it comes to multi-channel publishing infrastructure, Moore points out the need for a more mature "middleware" technology, particularly in the area of content management [For more on this, see "The New CMS Mandate: Managing Multi-Channel Content" starting on page 44.] "With so many platforms, devices, and media capabilities, the need for a common repository of a publication's intellectual property—including rights—will be the key to greater efficiency in reaching a mobile audience," he says.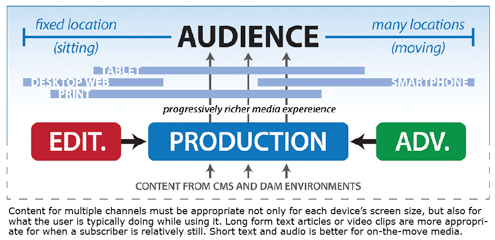 Is It Worth the Trouble?
Editors and publishers seem to agree on the value of the mobile experience. "Compared with the Web, the tablet is a 'digital oasis' for users," McCarthy says. "It's a beautiful, quiet experience, with fewer distractions and demands. It's a digital luxury that people haven't been able to find on the Web. They tend to stop and stay longer, reading more, going deeper into a story with extras like primary-source documents and infographics."
The "oasis" effect may benefit advertisers as well. An engaging, distraction-free experience may induce an increase in shopping—perhaps at brick-and-mortar locations, but more likely on the mobile devices themselves.
"Mobile publishing is helping turn around the overall economics of the publishing business," says Moore. "It is checking the long-term erosion of the paid content aspect of our business, and is beginning to grow it."