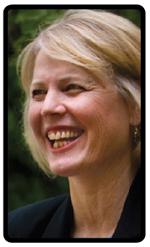 She repositioned her publishing house as a local multimedia provider in order to fend off entry of big dotcoms like Google and AOL Patch.
Since 1981, MyNorth Media had been dedicated to sharing stories and photos that embody life in Northern Michigan. They've published their award-winning flagship publication, TRAVERSE, for over 25 years and more recently added Northern Home & Cottage, Destination Northern Michigan and Meetings North.
However, as larger companies began to see the value in smaller markets, MyNorth had to reinvent itself in order to retain their market share in the face of stiff competition.
"We now have three monthly e-newsletters with almost 18,000 subscribers each and one monthly with over 12,000," Fellows explains. "These have been fabulous vehicles for driving traffic to our Web site as well as for selling ads."
The MyNorth Community grows at a pace of about five new members a day. "Anyone can blog, post photos and videos or start a discussion, meaning we now have 2,000-plus members adding content themselves," says Fellows. "In addition, we run our entire calendar through the Community and about 80 percent of the events are entered and managed by people other than our staff. Organizations can enter their event, send out an e-mail blast right from their event and even handle RSVP's."
The company maintains an active presence on Facebook and Twitter. Fellows explains her social media strategy: "We post regularly to Facebook and Twitter, but we do so with clear intent. The greatest value those entities have for us is to drive traffic to specific places on MyNorth.com."
Serving as a Web site design, development and video provider continues to offer opportunity for growth. "We have a very robust Web site where we employ many of the same techniques we encourage our clients to try, which also increases our credibility," says Fellows. "These endeavors have circled back to other products as Web clients need to promote the site and video clients want to drive traffic to their online videos."

VITAL STATS: MyNorth Media sees revenue trending up in print and new media to between $3 and $4 million, with print advertising in print rising between 4 and 22 percent depending on the product.