Deborah Esayian

co-president | Emmis Interactive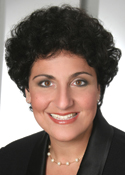 "The most important thing you can do in a downturn is teach editors and staff how to talk and think about Web sites, as well as the importance of investing in new technologies," says Deborah Esayian, co-president of Emmis Interactive, which works with print properties Texas Monthly, Los Angeles and Atlanta. "Editors need to learn that if it's 'a free technology,' it's probably worth just about that. We all need to get out of the cheap mindset and figure out the best place for our investment."
Magazines can include readers in other types of dynamic content. While user-generated content isn't new news, Esayian suggests publishers start uploading pictures and stories that dovetail with monthly issues. "For Texas Monthly, we did 'Best Texas Sunsets' and had people upload their own photos. It's become impossible to produce an entire brand experience without input from your readers."
Texas Monthly's online holiday gift guide [December 2008] had nothing to do with the print publication itself, says Esayian, but the magazine was able to sell 25 luxury brands into the guide in two and a half weeks.
Educating advertisers about your capabilities before you pitch them is a smart move as a publisher. "I would say 50 percent of advertisers are looking for custom, localized solutions," says Esayian. "And nine times out of 10, advertisers are helping us develop our content, so they are already buying into our program and the money that we've invested in it."  
One of the biggest problems facing publishers during this recession is wasting money in an attempt to cut back, says Esayian. For example, "display ad model and small hits here and there are inefficient—it's not the big money maker that everyone though it'd be," she says. In addition, Esayian believes that how publishers monetize assets—like learning how to correctly utilize podcasts—can only be done through an education in interactive and taking cues from other media models.
Where They Will Grow: Through learning the best ways to sell the Web and monetize assets.
Where They Will Save: Esayian will not invest in strategies that only yield small hits, and considers display ad model inefficient.
 
Quote: "The most important thing you can do in a downturn is teach editors and staff how to talk and think about Web sites, as well as the importance of investing in new technologies."
MAIN PAGE
Todd Matherne CEO | Renaissance Publishing
Toyin Awesu publisher and editor-in-chief | AvenueReport.com
Cameron Brown president | King Fish Media
Efrem "Skip" Zimbalist CEO | Active Interest Media
Justin Smith president | The Atlantic
Steven Kotok general manager | The Week
Len Burnett co-founder, co-CEO | Uptown
Risa Crandall VP | Scholastic Parents Media
Janet Libert editor and publisher | Executive Travel SkyGuide
Mike Domke founder and president | Milo Media
Jim Prevor CEO | Phoenix Media Network
Kent Brownridge general manager | OK!
Samir Arora CEO | Glam Media
John Sateja EVP | Consumer's Union
Jim Vick staff director/publisher | IEEE Spectrum
Pete May president | Greener World Media
Barb Newton president | Sunset Publishing
Paul Mackler | CEO | HMP Communications Holdings
Harry Sachinis | president | McGraw-Hill Business Information
Meet the Author
---