A Death Metal Memo

Metal Maniacs editor gives contributors final 'eternal metal hugs.'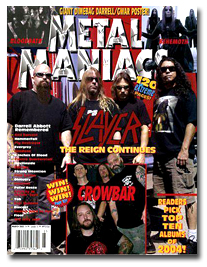 RELATED: Publisher Mulls Future of its Music Magazines
Shutting down a magazine sucks. As an editor, telling your staffers and freelancers, I'd imagine, sucks even harder.
But you'd be hard-pressed to find a sweeter final e-mail than this one, sent from Liz Ciavarella, editor of Zenbu Media's Metal Maniacs, to contributors (including one, judging by the timestamp, residing in Australia) announcing that the plug had been pulled on her magazine:
From: [REDACTED]
Subject: Urgent Metal Maniacs Update 2.3.09
Date: Wed, February 4, 2009 12:45 pm
To: [REDACTED]
Hi All,
This is probably the most difficult email I've had to write and though I wasn't planning on sending it until tomorrow when I could actually get my head together and dry my tears, the rumor mill has already started. This afternoon Metal Maniacs (as well as the remaining titles under Zenbu Media — Metal Edge and Relix) officially closed its doors. The exact reasons are still a little hazy but it appears that no one is immune to the crashing economy. We've been told we are on "hiatus," which means the coffin hasn't been shut just yet. Our ad honcho Dov Teta and I are scrambling for a potential solution and with any luck, I hope to be sending a far less grim email in the not so distant future. For now though, the March/April 2009 edition (Kreator cover on sale 2/24) will be the last published issue (no goodbye issue unfortunately).
I feel like there's a death in the family and I have a lump in my chest I can't really explain right now. Metal Maniacs has become an extended metal household (this is our 20 year anniversary!) and I don't think I could have asked for a more sincere, craftier group of scribes. I thank you ALL for your amazing talents, your patience with my sometimes tardy email response time, my often terribly spelled quicktime phone messages and for generally being true in your metal warriordom.
And a very special metal e-hug to co-chief JJ Koczan who managed to deal with my perpetual overthinking of all things maniacal like a true champ. You have the patience of a saint.
This certainly won't be the last email from me and I'll have more news for you later this week or early the following (pretty much as I hear it really). There's still many questions I have myself. I'm the meantime I'll be working on clearing cost sheets for both the Absu issue that just went on sale as well as Kreator (which will likely be hitting your mailboxes shortly). I never used my official Maniacs email so [REDACTED] will continue to be active until the end of time (or the end of AOL — whichever comes first).
 
In the meantime, I love you all. Thanks for sticking with us and making MM what it is. The emails that have been flooding in have been overwhelming and it just goes to show you, when you think no one is paying attention, they are and that certainly doesn't happen alone.
Eternal metal hugs – Liz
 
Metal Maniacs Magazine
Liz Ciavarella – [Former] Editress
Meet the Author
---