Dean Horowitz

Vice President of E-media and Market Intelligence, Vance Publishing Corporation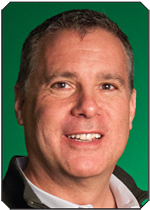 Horowitz is responsible for research, analytics, development, strategy and execution of Vance Publishing's 38 websites.
Dean Horowitz, vice president of e-media and market intelligence with Vance Publishing Corp., is applying the notion of transparency from editorial to advertising. In an industry that often exists behind closed doors, Horowitz says delivering data to staff and clients is what is gaining the publisher ad dollars and page views.
"When a client buys something with us, we make sure they get detailed reports," says Horowitz, who oversees all e-media/digital development and execution, strategy, research and analytics for Vance's 38 websites. "For e-newsletters, clients get reports 10 days after it went out; for a Web ad, they get a report five days after the ad month end. We grant open access to our reporting system."
This transparency translates to Vance's editorial staff as well. The publisher is now compensating editors on page views they obtain from their stories; a change that didn't immediately sit well with staff when the initiative was introduced in 2011. "Initially there was pushback: It's open to who the top performers are. We have to value the people making the content more than ever before. It's about the product more than it is the sales story at this point," says Horowitz.
While some may view these tactics as controversial, the transparent models are paying off. Digital revenue has increased 97 percent since Horowitz joined the team in 2010. Unique visitors increased 31 percent to 4.3 million in 2011. Active subscribers were up 25 percent last year to 1.5 million.
Horowitz says an improved database is his next challenge. "We want the database to be as detailed as possible about the markets we serve. We don't want it to be limited by print constraints, manufacturing costs, BPA audits or artificial blocks," he tells Folio:. "I believe what we need is details on individuals. That way, when we go into the planning phase next year with clients, we can talk data, not just ideas."
VITAL STATS: Since Horowitz began with the company in 2010, digital revenue increased 97 percent; active subscribers to Vance's properties jumped 25 percent in 2011 to 1.5 million.
Meet the Author
---