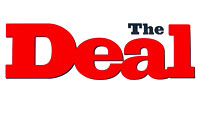 New York-based financial newsweekly The Deal Monday reduced its overall workforce by 10 percent, FOLIO: has confirmed.
The cuts were company-wide and represented roughly 15 employees. Prior to the layoffs, The Deal employed more than 150 employees—including 75 full-time staffers, the company said.
In addition to The Deal magazine, other products produced under The Deal umbrella—which serves corporate and financial dealmakers, advisers and institutional investors—include The Daily Deal and TheDeal.com. In October, The Deal launched The Deal Pipeline, a subscription-based real-time news site.
Launched in 2000, The Deal is a privately held company owned by invesment funds including U.S. Equity Partners and Wasserstein and Co.