David Levin

Chief Executive | United Business Media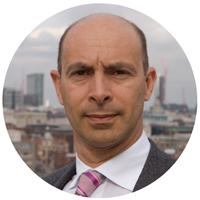 "The company that was CMP is now gone." That's what London-based United Business Media chief executive David Levin told FOLIO: last February when the company announced the restructuring of CMP Technology into four separate businesses led by four co-CEOs.
The new CMP businesses include TechWeb (with pro forma 2007 revenue $148 million), the Everything Channel (pro forma revenue of $73 million); TechInsights (pro forma revenue of $83 million) and Think Services (pro forma revenue of $61 million).
It was a bold move, one that drew skepticism from much of the industry, particularly as it came on the heels of former CMP CEO Steve Weitzner moving to chairman, and then leaving the company for rival publisher Ziff Davis Enterprise last January.
"I don't understand. Has anything actually changed?" wrote one tech industry blogger. "These are the same divisions they had before. They carry the same products and will be led by the same four people before. Besides dropping the CMP name, everything is exactly how it was."
"To my mind, a brand means something to its audience," says Levin. "Our audience, in the old CMP World, related to 'Information Week.' Our audience related to EE Times. Our audience at no point related to the word 'CMP.'"
Levin has also had to make hard decisions with parent United Business Media, which laid off more than 500 staffers in the second half of 2008. But the focus is paying off.
Events, services and online now make up roughly 60 percent of UBM's overall profit mix, according to Levin. UBM reported an adjusted operating profit on continuing operations of roughly $245.7 million, up 4.5 percent from 2007.
Events were UBM's biggest money-maker in 2008, accounting for 32.9 percent of revenue and 47.3 percent of profits. Events booked for 2009 are showing a 5 percent increase in revenue, the company said. Print will continue to shrink as an overall percentage, accounting for less than 10 percent of overall profits.
VITAL STATS: UBM 2008 revenue grew 10.7 percent.
Meet the Author
---