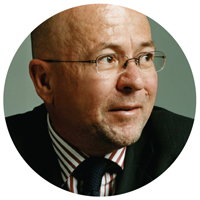 It was the most talked-about issue of a magazine in 2008. The 75th anniversary, October issue of Esquire featured a flexible electronic "paper" cover that allowed the words "The 21st Century Begins Now" to scroll across it. The e-ink cover was a first for the U.S. magazine industry.
Not surprisingly, the issue sold 130,000 copies at the newsstand, Esquire's top-selling cover during the second half (well above its 105,503 average) and spawned a community of YouTubers bent on hacking it.
Editor David Granger, who's become something of a serial envelope-pusher (see: Esquire's margin novellas, coverline-filled covers, etc.), claims it wasn't a gimmick cooked up by some outside the box sales executive at Hearst, but a pure editorial play.
The February cover of Esquire, for instance, featuring Barack Obama on its cover, caused a bit of a stir in hard-lining church-state circles—and calls to the American Society of Magazine Editors—over a cover "window" that opens up to an ad for the Discovery Channel, as well as a mini-TOC.
Granger defended the apparent ceding of sacred cover real estate. "It's one of the several manufacturing gimmicks I presented to my publisher about a year and a half ago as things I would love to do if we could find a way to pay for them," he wrote in an ASME blog. "I got sick of reading about the demise of print, which is the best, most rewarding medium ever, and I got sick of all forms of print being labeled 'old media.' Yeah, print has been around for a long time, but that's because it works. Both aesthetically and as a business—which is more than one can say for most forms of 'new media.'"
Next up, a planned May issue featuring three perforated covers with strips that when put together will create the cover images, including two of Esquire's favorite subjects: Obama and George Clooney.
For Granger, all of the experimentation has a bigger purpose: "The medium is so compelling that I and we should all be able to do more with it."
VITAL STATS: Esquire's October issue featuring an e-ink cover sold 130,000 copies at the newsstand.