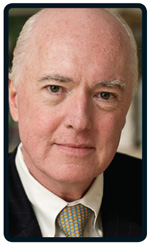 At a time when many owners looked to gut and sell their media properties, Bradley invested heavily in personnel and a new strategy that resulted in The Atlantic's first profits in decades.
The ranks of Atlantic Media are no strangers to the FOLIO: 40 (which included president Justin Smith as a One to Watch in 2008 and former Atlantic blogger Andrew Sullivan as a Director-Level Doer in 2009).
This year, The Atlantic takes two slots in the FOLIO: 40 (check out Under the Radar to see the other).  It could have been more—with the 154-year-old franchise turning its first profit in decades in the fourth quarter of 2010, online revenue growing 70 percent, event revenue up 37 percent and even print advertising revenue up 27 percent, there is a lot of credit to go around, from Smith to publisher Jay Lauf to editor James Bennet, vp of digital operations Scott Havens and more.
However, owner David Bradley gets the nod for actually believing in his media brands enough to take some dramatic steps (not least of which was actually investing heavily in money-losing franchises) to turn them around.
The comeback was structured around creating a solid brand identity; a digital-first strategy; building a marketing services operation; expanding live events; and maintaining a relentless focus on hiring top talent. It started with relocating The Atlantic from Boston to Washington, D.C. (while putting the sales team in New York City) and hiring Smith and Lauf and other VIPs.
Throughout the brand overhaul, $2 million in costs were removed from the operation. Now Bradley is doing the same with his other brands, such as National Journal, which went on its own hiring tear over the past year, landing big names such as former Newsweek senior editor and national economic correspondent Michael Hirsh as chief correspondent, Fox News chief White House correspondent Major Garrett as a congressional correspondent and former Time correspondent Matt Cooper as managing editor.
In February, Atlantic Media named former Hanley Wood president Peter Goldstone head of its Government Executive Media Group, which serves federal managers and agency leaders in Washington.
VITAL STATS: The Atlantic boasted double-digit growth in digital events and print in 2010 while the November issue had the most ad pages in the magazine's history.