Data Shot: Condé Nast Boasts Most Growth In Individual Advertisers in 2010

Time Inc., Hearst are close behind.
Hearst was the 2010 group publisher's ad-page champ according to FOLIO: sister site minonline, while Condé Nast had the largest growth in the number of individual brand advertisers across five major consumer publishers, according to data from MagazineRadar.
Condé Nast saw 3,746 different brands advertise in its pages last year, up 3 percent from 2009. Time Inc. and Hearst were both flat, with 3,835 and 3,159 individual brands respectively. Bonnier had the next third largest number of individual brand advertisers, even though that fell 2 percent in 2010.
Meanwhile, the number of individual brands advertising with Meredith fell 5 percent to 2,282, while Hachette Filipacchi fell 1 percent to 1,971.

Hearst boasted the biggest percentage growth in ad pages last year among the five publishers, while Time Inc. had the most total ad pages at 23,746, according to min.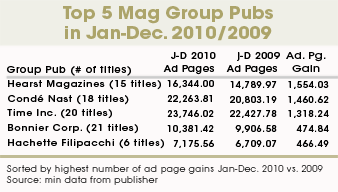 Meet the Author
---