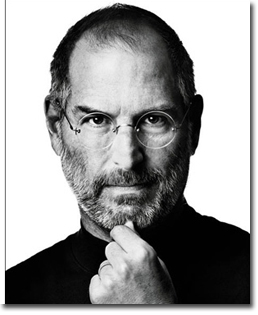 Software giant Apple is losing its figurehead, as Steve Jobs (pictured) announced his resignation as CEO yesterday. And as the company loses the man who serves as both its leader and a major part of its brand, people are starting to wonder what is fated for Apple, its software and its policies.
In a letter to Apple employees released Wednesday, Jobs tapped Tim Cook, current COO of Apple, as his successor. Jobs will act as board chairman and director at the company.
Jobs himself is followed by an almost cultish group dubbed "fanboys" in the media; supposedly, chants of "We love you, Steve!" are often heard at Apple events. His name inspires equal numbers of eye rolling, with the publishing industry largely at ends with Apple's subscription terms revealed in February.
Most infamously, stipulations include publishers must share 30 percent of revenue from each digital purchase, and cannot encourage readers in-app to buy organically by providing a link to their own site. User demographics are also held by Apple, unless the user chooses to share info with the publisher by physically agreeing to do so.
According to several blogs featuring overly sentimental postings about Jobs' departure, this change is not a surprise: Jobs has been on medical leave (believed to be caused by pancreatic cancer) for months, and has appeared at very few Apple events as of late.
After the announcement, Reuters reported Apple's stock value fell seven percent. Here, we see while a company relying heavily on its leader to maintain the face of a brand works when things are going well, it can also prove to be problematic when they're not.
Tina Brown's arrival at Newsweek has led to severe criticism from the media, circling around its publicized redesign and recent covers. While both may have been criticized regardless, since the famed Brown leads the pub, judgment seems to be even harsher. According to ABC, paid subs are down 7 percent from first half 2010's 1.52 million subs to first half 2011's 1.41 million subs. 
The state of Wenner Media, publisher of Rolling Stone, US Weekly and Men's Journal, comes under rabid speculation every time rumors of owner Jann Wenner's estranged wife Jane threatening divorce circulate. While this would internally affect the business side of Wenner Media (as Jann borrowed money from Jane's father to start Rolling Stone), it shouldn't concern those who buy the magazines.
It will be interesting to see what happens as Apple moves forward with Cook as CEO. Though Jobs is still present, the iconic status he occupied as Apple leader is no longer. While publishers may hope this will mean some more lenience in policies, the most likely side effect is that Apple might lose some of its sway among cultish users. This may then lead to users giving products (including tablets) outside of Apple's offerings a chance; which will ultimately give publishers back that 30 percent sub cut.