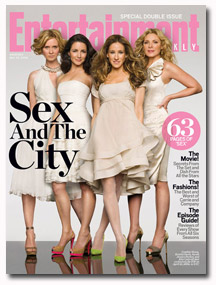 Cyndi Stivers—the founding editor
of Time Out New York who left the magazine to launch Martha Stewart's Sirius satellite
radio channel—has been named managing editor of Entertainment Weekly's EW.com,
the magazine announced today.
She replaces Jay Woodruff, who
is returning to the print magazine as executive editor.
Stivers, a former president of
the American Society of Magazine Editors, will oversee editorial content for
the site, reporting to EW managing editor Rick Tetzeli.
She launched Time Out New York in
1995 and served as TONY's president editorial director until 2005, when she was
tapped by Martha Stewart Living Omnimedia to supervise the launch of Martha's
24-hour Sirius satellite radio channel.
Stivers' hire comes at an
interesting time for the EW brand. Late last year, Entertainment Weekly hired prominent
editor Scott Donaton away from Advertising Age to become EW's publisher. But the
magazine—which was already bracing for a recession and tough ad climate—appears
to have been hurt by the prolonged Writers Guild strike that rocked Hollywood last fall.
Through March, advertising pages
are down 20 percent when compared to the first quarter of 2007, according to Publishers
Information Bureau figures. Ad revenue is down 16.8 percent.
EW.com averages 73 million page views per
month, the company says.