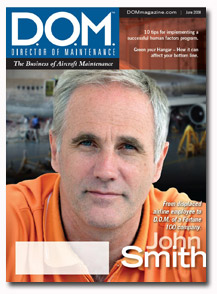 Cygnus Business Media has filed a lawsuit against Impact Business Media, the company founded by a former employee who left Cygnus this spring with three fellow staffers to launch a competing magazine.
Greg Napert, who launched Director of Maintenance, which competes for advertising dollars with Cygnus's Aircraft Maintenance Technology, had served as AMT's group publisher.
According to the complaint filed in Wisconsin Circuit Court and obtained by FOLIO:, Cygnus alleges that Napert—along with former AMT publisher Danny Faupel, editor-in-chief Joe Escobar and national accounts manager Bob Graf—broke confidentiality and non-solicitation agreements and disclosed Cygnus "trade secrets" by taking list information from the AMT Society, which is associated with Cygnus' AMT magazine.
Cygnus is seeking the return of Cygnus property—including the list information, undetermined punitive damages and reimbursement for legal fees and expenses.
"Cygnus, like any other company, will do everything it can to protect its assets," co-CEO Carr Davis wrote in an e-mail to FOLIO:. Napert declined to comment.
The complaint alleges that Napert obtained the list information by sending several e-mails containing "confidential proprietary business information and trade secrets" from his business account to a personal account. Cygnus claims it discovered unauthorized software installed on Napert's computer "for the purpose of deleting or destroying data" in an "apparent attempt to conceal information on the computer and/or to intentionally destroy Cygnus' data."
The complaint also alleges that during their employment at Cygnus, Napert, Faupel, Escobar and Graf solicited the publisher's customers "for purposes of selling subscriptions and/or advertising" for their new magazine. It goes on to allege that they "intentionally interfered with Cygnus' contractual relationships" by breaking confidentiality and non-solicitation agreements, which state that they would not directly or indirectly encourage or cause any employee—including themselves—to quit and work for a competitor.
In a May interview with FOLIO:, Napert said he did not sign a non-compete agreement with Cygnus.
At an injunction hearing held late last month, legal counsel representing Cygnus and Impact Business Media indicated that the parties had "reached agreements" and that they would "work in good faith" to "resolve all the issues before the Court."
A Cygnus spokesperson declined to comment on the status of the lawsuit.