Cygnus Publishers Buy Three Manufacturing Brands

Fabricating & Metalworking magazine among the properties under new ownership.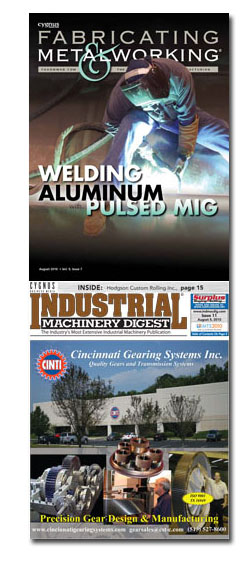 Cygnus Business Media says it has sold three manufacturing properties to their managers.
Fabricating & Metalworking was acquired by Alliance Communications, Inc., an entity formed by publisher Tony Morrison. Industrial Machinery Digest and the Total Industrial Plant Solutions brand were acquired by Source360 Media LLC, which is led by publisher William Strickland.
Both acquisitions were finalized Thursday.
"I have enjoyed working at Cygnus Business Media, but as the affinity groups were being created, we recognized an opportunity," says Strickland. "Tony and I approached management about the possibility of our purchasing the brands rather than allowing them to possibly be acquired by another company. There are enormous possibilities for Tony and me to grow these brands and I feel fortunate to be given this opportunity."
Last month, Cygnus announced a plan for a new corporate "architecture" around four affinity groups: Aviation, Public Safety & Security, Building & Construction and Agriculture. Each will be headed by an executive vice president who will act as a point person for Cygnus in their particular market, overseeing sales, content and market for their brands. CEO John French said "about a handful" of Cygnus' properties are not expected to be grouped into any of the four portals.
Serving the metal manufacturing industry, Fabricating & Metalworking carries a 38,800 circulation and publishes 10 times annually. Industrial Machinery Digest publishes 18 times a year and has a 13,000 circulation.
Total Industrial Plant Solutions, or TIPS, is what Cygnus calls an advertising deck—something like a deck of cards with advertising on it that is mailed to CEOs, vice presidents and other managers throughout the manufacturing industry.
A Cygnus spokesperson says the employees at each of the three brands are expected to stay on under their respective new owners.
Meet the Author
---